Can't get enough: Obama takes another selfie, now with Malaysian PM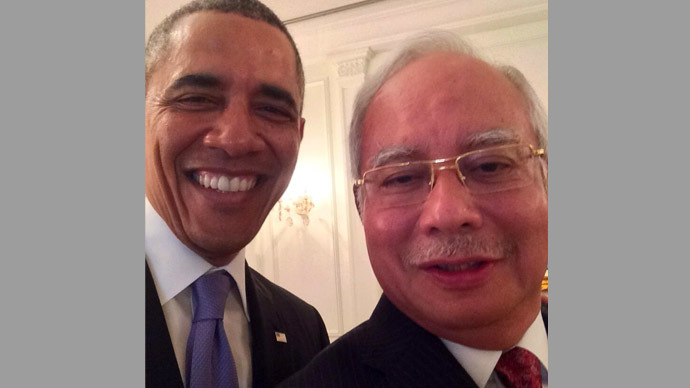 The Obama selfie is back, this time re-emerging during the president's latest swing through Asia – and just in time to ruffle the feathers of his critics once again.
Meeting with Malaysian Prime Minister Najib Razak on Sunday, the two leaders discussed numerous issues – including human rights abuses against the government's opposition and the stalled Trans-Pacific Partnership trade deal – but the news making immediate waves outside of the country is that Razak convinced Obama to join him in another selfie.
Both leaders are smiling in the photo, which Razak posted to Twitter shortly after it was taken. The photo has already been favorited by more than 14,100 people and retweeted by nearly 30,000.
My selfie with President Obama ! pic.twitter.com/mr94wZtmuA

— Mohd Najib Tun Razak (@NajibRazak) April 27, 2014
As noted by Time Magazine, the selfie's emergence is a little awkward, since it came just days after Obama denied a similar request by a 13-year-old girl after speaking to US troops in South Korea. The young girl was holding a sign that read, "Mr. President may I have a selfie with you?" but Obama reportedly told the young lady that if he took a photo with her he'd have to do so with everyone else.
Regardless, some of the president's critics just want the whole selfie-taking craze to stop completely. After the Obama/Razak photo exploded onto the internet, Fox News host Greta Van Susteran responded on Twitter asking, "how much longer are 'selfies' going to be the fad?"
how much longer are 'selfies' going to be the fad?

— Greta Van Susteren (@gretawire) April 27, 2014
Of course, this isn't the first time President Obama has indulged people – or world leaders, for that matter – when it comes to the fine art of selfie-taking. At last year's memorial service for the late South African leader Nelson Mandela, Obama was caught taking a selfie with British Prime Minster David Cameron and Danish Prime Minister Helle Thorning-Schmidt. As RT reported then, some criticized the leaders for their decision to take the photo during a funeral service.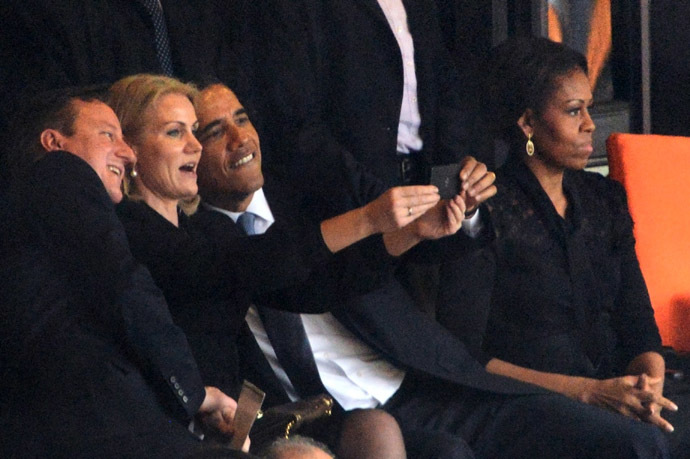 Meanwhile, Obama's participation in selfies was further called into question in early April, when baseball player David Ortiz of the Boston Red Sox tweeted a photo taken with the president at a White House visit. It was later revealed that the entire stunt was organized by Ortiz and smartphone maker Samsung, leading some in the administration to wonder if Obama would take any more selfies moving forward.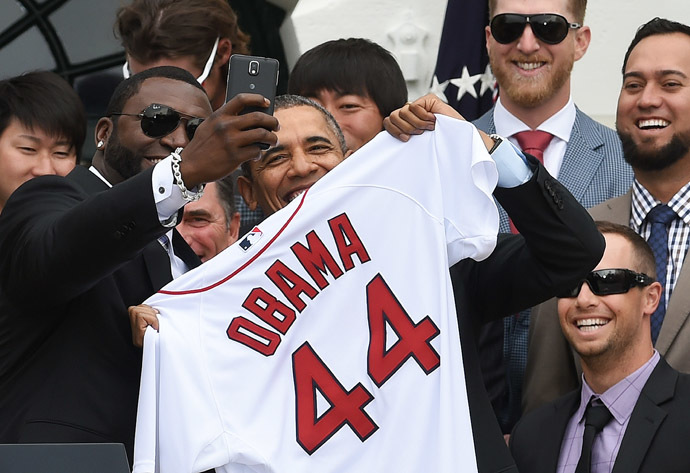 "As a rule the White House objects to attempts to use the president's likeness for commercial purposes, and we certainly object in this case," White House Press Secretary Jay Carney said at the time.
Just two weeks ago, though, Obama appeared in one more selfie, this time with Vice President Joe Biden, who also posted the photo online.