​NASA invents self-destructing bio-drone made of fungus and bacteria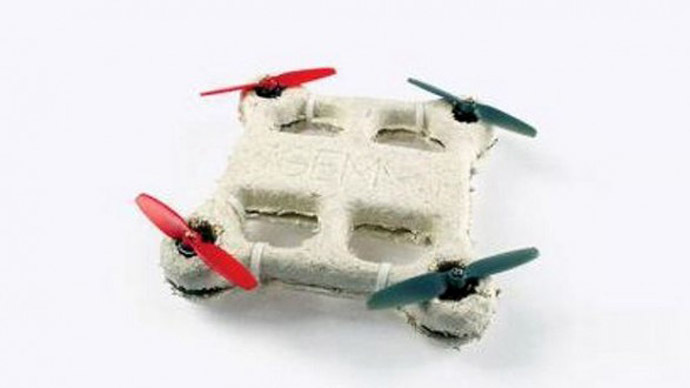 A biodegradable drone made out of fungus, bacteria and wasp spit built by NASA-affiliated scientists may pave the way for future spyware, which would simply self-destruct if it crashes, leaving behind only minute remnants.
The biological drone would simply melt away, according to its designers. "No one would know if you'd spilled some sugar water or if there'd been an airplane there," Lynn Rothschild of NASA's Ames Research Center in California told New Scientist. The model was conceived by a group of scientists from across Stanford, Brown and Spelman College.
The bio drone completed its first flight earlier this month at the International Genetically Engineered Machine competition in Boston. It is primarily made of a fungal material called mycelium – the vegetative part – and looks a little bit like a cardboard drinks holder.
After the main body was produced, the outer skin had to be made out of bacterial cellulose sheets, which were grown in a laboratory and take on a sticky, leathery type consistency. It was then waterproofed, but this still had to allow for its immediate biodegradability.
Фото опубликовано Stanford—Brown—Spelman iGEM (@sbs_igem_2014) on июл 7, 2014 at 11:59 PDT
The solution was to coat the device in proteins, which had been cloned from paper wasps' saliva – what they use to gel their nests together and waterproof them.
However, the problem is that key components of the machine could not be made biodegradable for obvious reasons – propellers, batteries and controls had to be separately sourced.
"There are definitely parts that can't be replaced by biology," team member Raman Nelakanti of Stanford University told New Scientist.
Nevertheless, it will not stop further attempts by the team to develop sustainable bio-material replacements for as many parts as possible. The team has expressed a desire to develop sensors made out of E.coli bacteria.
The biological drone was an entry for the International Genetically Engineered Machine (iGEM 2014) competition. The team has shared the drone designs on their website so that people can try 3D-printing their own models.
You can share this story on social media: