Like Formula 1: Awesome GoPro footage of 200mph hydroplane racing
Published time: 15 Nov, 2014 08:09
Edited time: 15 Nov, 2014 10:45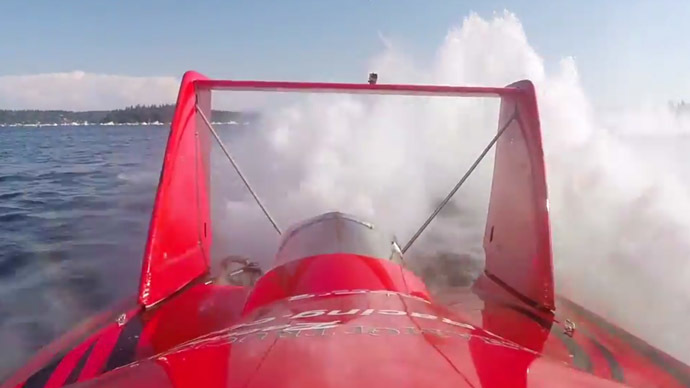 Whether you like sports or not, you're going to love this! A GoPro camera video just captured what 3,000 horse powers looks like in (and under) water.
This beast can take you over 200mph – it's no wonder they call them Unlimited Hydroplanes, currently the world's fastest incarnation of machines that are in the run since 1920s.
The Chinook military helicopter turbine engine capable of producing 3,000hp really shines, when fitted onto one of these things.
Comparisons to Formula 1 racing are bound to be drawn. An F1 car's top speed is about 220mph. The difference, apart from the obvious, is that there's way more crashing in the former.
The sport's ingnuity is in the boats' design: combined with breakneck speeds, it allows the boats to float above the water, barely touching it. The only thing that's submerged is the speedboat's engine. This vastly complicates steering and thus leads to more crashing.