​Art of destruction: Controlled demolition captured on cam (VIDEOS)
Published time: 26 Oct, 2014 23:52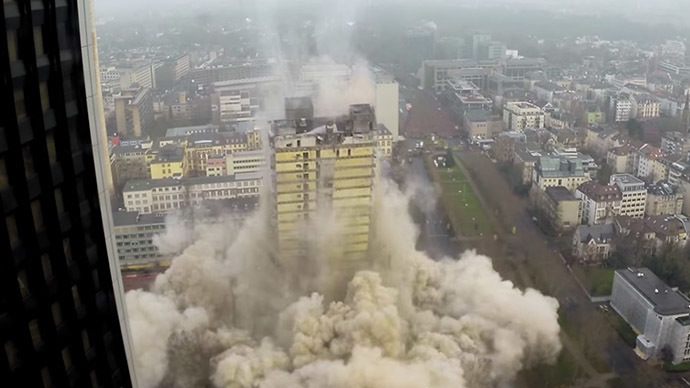 While construction of a building might take years and be boring to watch, the demolitions are a spectacular sight. Building implosions have proven to be so popular, they often get turned into a show or go viral on the internet.
This building in the USA may have taken years to build. However, it took only a matter of seconds to demolish it. While the view of the structure turned into a heap of rubble is impressive, you should think twice about being anywhere near the ground, given the plume of dust released.
Those who fancy a closer look, can watch destruction videos captured with high-tech equipment. Before a controlled demolition of a 116-meter AFE Tower in Germany's Frankfurt was filmed with a GoPro camera, experts used almost a ton of explosives to implode it.
You will have to wait a while for the actual demolition, but blink and you will miss it - literally. Recently, a video of a woman missing the implosion of an apartment building in Philadelphia, because of her frightened dog, went viral on the internet.
Some demolishers stage a whole show out of the generally scary process. When the 65-year-old New Frontier casino was imploded in Las Vegas in 2007, the event was accompanied by fireworks, bidding goodbye to the venue, where Elvis Presley made his Vegas debut in 1956.
While some aspire for visual effects, others aim for Guinness records. The US Controlled Demolition company set a Guinness world record for the "Largest Structure (by volume) To Be Demolished Using Explosives" in their performance of implosion of a concrete sports arena in Seattle in 2000.
Taking down of the second tallest building ever imploded was also captured on film. The Landmark Tower in Texas was 30 stories and 380 feet tall, when it was imploded in 2006.
Two of Hewlett Packard's office blocks folded like a pack of cards. More than 450,000 square feet was destroyed in seconds in Houston, Texas. Apparently, the block had seen better times and had to give way to something new.
The Controlled Demolition firm calls its business "the art of demolition" for a reason. Sometimes it can go wrong, with buildings getting stuck in the middle of the process. Hanging in mid-air, such Pisa towers might be dangerous - bang it and hurry off!