Good Guinness, deliver us! Israel demolishes Arab village 38 times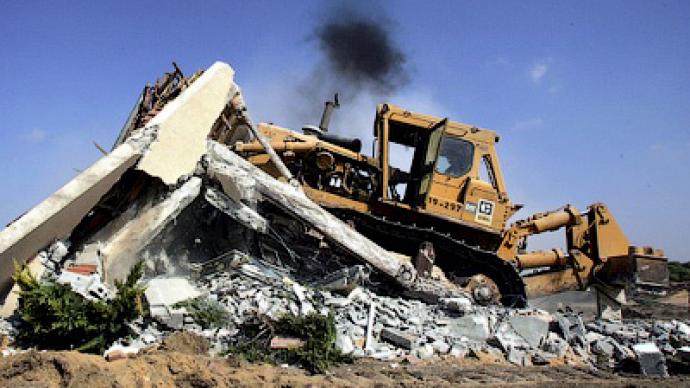 Palestinian villagers have addressed the Guinness Book of World Records to register a ruinous "record". A Bedouin village in Israel has been demolished 38 times by Israeli authorities, who say people in the village do not have building permits.
Al-Araqeeb village with population of 500 residents in the Negev claim their some 40 homes have been destroyed over three dozen times by Israel Land Administration. Residents of the Al-Turi Arab Bedouin tribe insist they are being pushed off their own land."We have ownership documents that go back to the Ottoman era," the head of the Committee for the Defense of al-Araqeeb, Awad Abu Farih, stated to Anatolian news agency.The residents believe that the village's centuries-old cemetery could serve as strong evidence of their historic rights.But since Israel was created 63 years ago, when the Ottoman Empire had already pushed up the daisies, Israeli officials have disregarded the antique documents and called for demolition teams over and over again.Despite the unceasing governmental acts of destruction, the villagers remain firm and full of self-righteous belief, continuing to resist Israeli authorities."Every time they demolish our houses, we rebuild them and we will keep doing that even if the demolitions reach 99. We will never leave our land," Abu Farih said.With the Arab Spring raging in the Middle East, the world seems to have forgotten about Israeli-Palestinian tensions, which certainly are still there to stay.It is likely that Israel is unwilling to create a precedent by allowing Bedouins of Al-Araqeeb village to stay and build. The whole territory of Israel was once carved out of Palestinian lands. After the Arab-Israeli war in 1948 up to 700,000 Palestinians had to flee their land, which officially became Israel in 1949. Thus, if Israel recognizes the Al-Araqeeb inhabitants' rights to this land, it could potentially inspire thousands of Palestinians to follow suit.Confrontation has been lasting for years. The latest demolition of villagers' dwellings happened on May 23. All possessions that were inside the houses were confiscated.Despite their determination, the villagers are living lives full of fear that their habitations could be destroyed any day."Our village has become a living example of the flagrant violations committed by the Israeli authorities against its Arab population," Awad Abu Farih stated.Since they cannot expect assistance from anywhere else, the villagers are considering an official address to the Guinness Book of World Records to draw international attention to their case.
Jeff Halper, executive director of the Israeli Committee against House Demolitions, told RT that this application is an act of desperation. "[The villagers] have turned to Israeli courts for years and years. Israeli activists have gone down and tried to resist the acts of demolitions. There has been an international campaign against the Jewish National Fund, which is behind the demolition of these homes and nothing has helped," he explained.The activist believes that world's attention is the last resort the villagers can rely on, saying that there is a chance to force Israeli government to do just through public opinion and international law.
You can share this story on social media: