Global leaders meet for G20 summit in Australia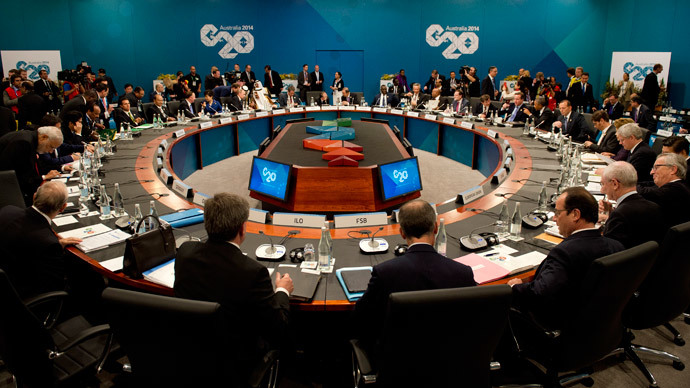 The world's largest advanced and emerging economies are gathering in the Australian city of Brisbane for the annual G20 summit. Global security, post-economic crisis recovery and financial reform will top the agenda.
16 November 2014

07:43 GMT

07:43 GMT

British PM David Cameron said at the press conference that G20 leaders view Ukraine's crisis as a "test of the political will of the United States and the countries of the European Union."

"I think we will meet that test. I think we have done so far. I think people have been surprised that the European Union and the United States of America have moved in tandem to say that what happened in Crimea, that what's happening in Ukraine, is unacceptable."

06:50 GMT

At least 50 indigenous rights activists burned the Australian flag in Brisbane on the sidelines of the G20 summit. They were outraged by recent remarks from the country's PM Tony Abbott stating that before colonization in 1788, the country was "nothing except bushes" – apparently forgetting about the country's indigenous peoples.

"He [Abbott] refers to this country as desolate (prior to the arrival of the first fleet)," activist Wayne Wharton told Australian Associated Press. "He welcomes the world leaders and tells them there was nothing.

"So we have to resort to symbolism to show our disgust in your colonial leadership," he added.

Indigenous rights protesters burn Au... https://t.co/KbnkMYI3kQ#tech#News#socialmedia | https://t.co/7t36hM9EcHpic.twitter.com/JPSRBDHDlC

— MILLISSA MATHAI (@MillissaMathai) November 16, 2014

Indigenous protest group burns the Australian flag at #Brisbane#g20 rally @abcnewspic.twitter.com/ZaGCS97XJ1

— Alyse Edwards (@Alyse_Edwards) November 16, 2014

06:43 GMT

Barack Obama said he had several conversations with Vladimir Putin at the summit in Brisbane as well as at Beijing's APEC summit. "I would characterise them as typical of our interactions, which are business-like and blunt," he said.