'No way!': Pentagon trashes Iranian replica of US drone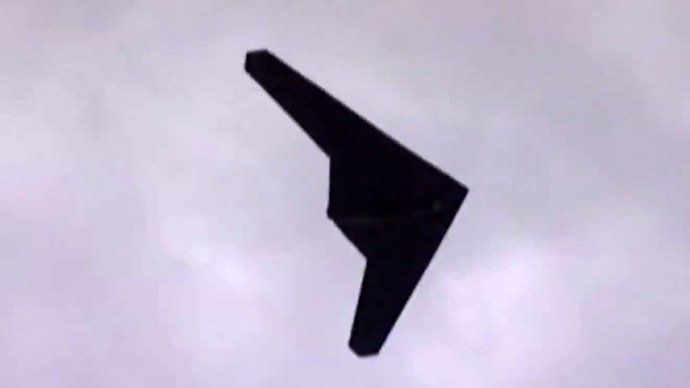 An Iranian replica of a US spy drone, seized by Iran in 2011, is inferior to the US version, which was initially captured by Iran, according to the Pentagon. Iran released a video of their similar design earlier this week.
"There is no way it matches American technology," Colonel Steve Warren said when asked about the Iranian replica. Warren added "Replica being the operative word there."
READ MORE: Video emerges of Iranian version of US stealth drone
Iran has just presented its "reverse-engineered" homemade variant of a US spy drone, the RQ-170 Sentinel, which it shot down in December 2011 after the aircraft entered Iranian airspace from Afghanistan while on a CIA mission.

The video showed a black mono-winged aircraft flying over mountains and arid terrain, before landing at an unknown airbase.
"Today is a very sweet and unforgettable day for me," Supreme Leader Ayatollah Ali Khamenei praised the drone earlier in the week, according to a video posted by the Tasnim News Agency.
The US has been claiming that its unmanned craft was protected in such a way as to make it impossible to copy, but Tehran responded back in August, saying it had managed to reverse engineer the aircraft.
READ MORE: Iran releases video 'proof' US drone decoded (VIDEO)
Now Iran claims its drone is even better than the American RQ-170 Sentinel it seized.
"The Iranian version's weight has remarkably become less, it consumes less fuel, its speed has been increased and the duration that it can fly has improved a lot because of its enhanced body," said General Amir Ali Hajizadeh, the head of the aerospace division of Iran's elite Revolutionary Guard. "The Americans had used metal in building the body but we did not use metal at all. It helps to reduce its detectability by radars," he added.
Iran plans to build two or three more prototypes and gear up to mass produce them next year.
The US RQ-170 Sentinel is reportedly not the only drone that Iran took down. Tehran claims that over the course of a few years it has captured several US drones, including the American Boeing-designed ScanEagle. Iran says that it is also copying the ScanEagle and plans to put its version into service.
READ MORE: Tehran claims capture of US spy drone in Iranian airspace
Iran has accused the US of sending drones to spy on the Iranian nuclear program. As for the RQ-170 Sentinel, Washington insisted that it crashed because of a technical glitch.
You can share this story on social media: