Video emerges of Iranian version of US stealth drone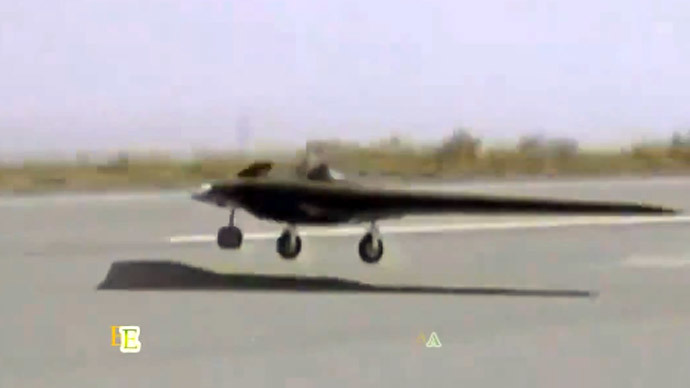 Iranian TV has shown a video of its new drone in action. The aircraft is said to be a 'reverse-engineered' homemade variant of a US spy drone, which it shot down in 2011.
The US drone, an RQ-170 Sentinel, was seized three years ago when it was downed after entering Iranian airspace from Afghanistan while on a CIA mission.
The video shows a black mono-winged aircraft flying over mountains and arid terrain, before landing at an unknown airbase.
The head of the aerospace division of Iran's elite Revolutionary Guard, General Amir Ali Hajizadeh, said Iran plans to build two or three more prototypes before March 20 and will gear up to mass produce them next year. The General also said the Iranian version was more advanced than the US original.
"The Iranian version's weight has remarkably become less, it consumes less fuel, its speed has been increased and the duration that it can fly has improved a lot because of its enhanced body. The Americans had used metal in building the body but we did not use metal at all. It helps to reduce its detectability by radars," he said on state TV.
Iranian-built copy of U.S. drone takes first flight: IRNA http://t.co/L61bi4Pm0S via @Reuterspic.twitter.com/xGkkShsLxv

— Military Edge (@Military_Edge) November 10, 2014
READ MORE: Iran test-flies 1st US drone replica
The US claimed that the technology in the drone was protected in such a way as to make it impossible to copy, but Tehran said back in August that it had managed to reverse engineer the aircraft. It was reported on Monday that the Iranian drone had made its first flight.
At the time, the then US defense secretary, Leon Panetta, told reporters it was unclear what technological value the drone could still have, depending on its condition.
An Iranian copy of a U.S. reconnaissance drone captured in 2011 has taken its first flight: http://t.co/mkhXhx4aAHpic.twitter.com/VI5QV8kALj

— Reuters Top News (@Reuters) November 10, 2014
"I don't know the condition of those parts – I don't know exactly what state they're in – so it's a little difficult to tell what they are going to be able to derive from what they have been able to get," he said, days after the original incident.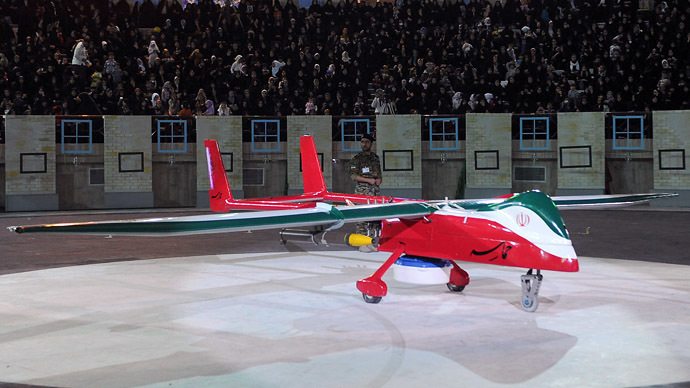 This is not the first drone to be captured from the US by the Iranians. The less advanced Boeing Scan Eagle is also being copied. It was shot down after flying over Iran from the Persian Gulf.
ABC news reported that neither the CIA, the Air Force, nor the drone's manufacturers, Lockheed Martin, had responded to requests to comment on the video.
Iranian TV shows reverse engineered Iranian home made version of US Spy Stealth Drone which it shot down in 2011 pic.twitter.com/FlNLw1vjxP

— MBC News (@MBCkhabaru) November 12, 2014
You can share this story on social media: