Mexico protesters torch state congress over kidnapped students (PHOTOS, VIDEO)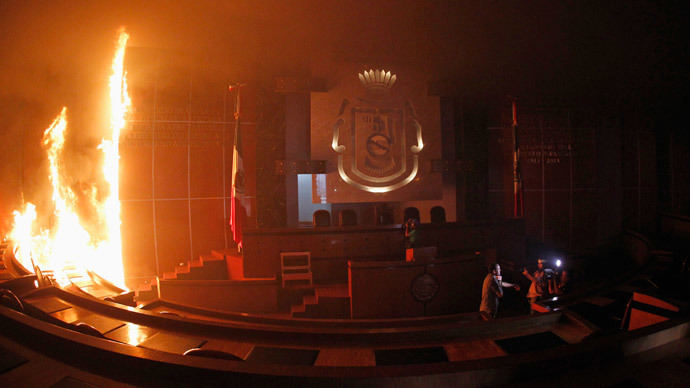 A crowd of about 500 protesters set ablaze the state congress building in the southern Mexican state of Guerrero in a violent rally over the alleged massacre of 43 college students.
Students and teachers stormed the Guerrero state legislature in the city of Chilpancingo on Wednesday and set fire to the library and chamber. Both areas were empty during the break-in.
In another part of the city, the protesters set fire to the education department's audit office.
Mexico has been facing violent rallies since local authorities revealed that the 43 students were handed over by corrupt police to the Guerros Unidos gang, members of which confessed to murdering them and reducing their bodies to ashes.
On Tuesday, protesters torched the ruling Institutional Revolutionary Party's (PRI) regional headquarters, which is located in the same city.
READ MORE: Mexican protesters set fire to regional party HQ over 43 missing students
In another incident, protesters blockaded the airport in Acapulco for three hours as they clashed with police on Monday.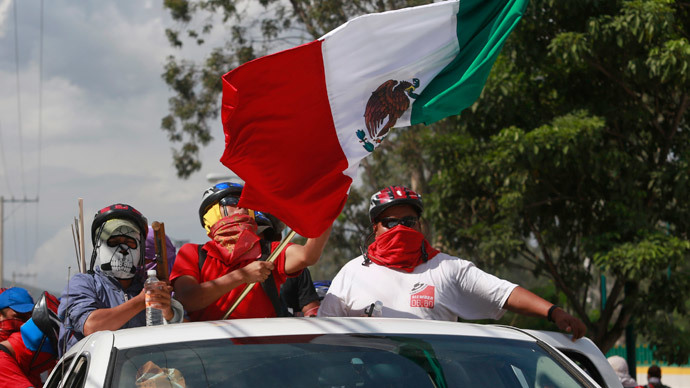 The students went missing on September 26 in the southwestern town of Iguala. They were detained following a protest in which a group of students clashed with police. They have not been seen since.
Their disappearance has posed the biggest challenge so far to President Enrique Pena Nieto's administration, with many questioning the government's progress in fighting against drug violence.