Poor Capello: Russian Football Union struggling to pay Italian's $11mn salary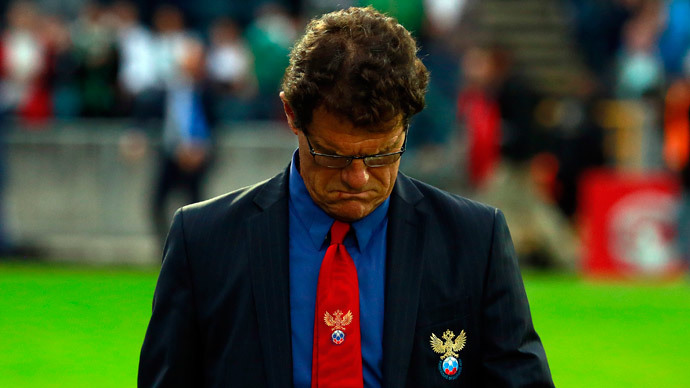 The bank balance of Fabio Capello, the coach of Russia's national football team, has not increased in five months. However, a member of the Russian Football Union (RFU) says the organization is looking for funds to pay his jaw-dropping $11 million salary.
Capello, the highest-paid international coach in football, was reappointed as Russia's coach until 2018. According to his contract, he should be paid $11 million a year – but the Italian says he hasn't received a salary for five months, and has admitted his patience is running dry.
"I enjoy training the footballers, and don't like to talk on other subjects...but now everyone in the world knows that I have not been paid according to my contract for five months...I hope this will be sorted out as soon as possible," the coach said in an interview with Sportbox.ru.
#Capello earns 11 Million Dollars (990 Million Kenya shillings) a year as #Russia coach *Googles football coaching colleges*

— Bernard Ndong (@BernardNdong) November 12, 2014
RFU executive committee member Sergey Stepashin announced Wednesday that the union simply doesn't have enough money to pay to its nationally celebrated employee.
"When the contract was being signed, the sources of financing should have been considered. Now we must look for such sources," Stepashin told Interfax news agency, adding that "the salary payment issue should be solved on November 15, on the day of the match in Austria."
Capello was widely criticized in Russia by football fans and some MPs, after his team was eliminated at the group stage at the 2014 FIFA World Cup in Brazil. His managing skills were also scrutinized at a recent Euro 2016 qualifying match, when Russia could not defeat the Moldova team and finished with an even 1:1 score.
The match upset Russia's sports minister, Vitaly Mutko, who expressed plans to talk to the Italian personally.
"It's bad. Fans don't like it, and I don't like it," Mutko said, as quoted by Interfax. The minister is expected to speak to the coach at the next match in Vienna on November 15.
Here's my solution to the Russian Football Federation: Ask a wealthy "friend" to give Capello, who loves art, a rare painting as collateral.

— Soccer Translator (@worldfootballcm) November 12, 2014
Commenting on the money issue in August, Mutko said he doesn't know where the RFU's money has gone.
"Someone must pay them. But who? I can't," the minister said, as quoted by TASS. He then reminded that the union receives money not only from the team's participation in championships, but also through contracts with international brands, including Adidas and Volkswagen.
Natwest trying to sell 'Helpful Banking'. Would seem more helpful if you didn't have Fabio Capello fronting it though pic.twitter.com/egoWuL8a5p

— Calum Brereton (@CalumJBrereton6) November 10, 2014
It's not the first time that Capello – who has been training the Russian football team since 2012 – has butted heads with those who sign his paychecks. The highly-paid coach was not on great terms with his previous employer, the English Football Association, either. The ex-England national manager resigned from his post in 2012, after openly criticizing the association's decision to remove a player involved in a racist scandal as the team's captain.
According to the Italian, he also had money issues with Roma back in the early 2000s.