'Scream' or shaving machine? Internet reacts to Russia 2018 World Cup logo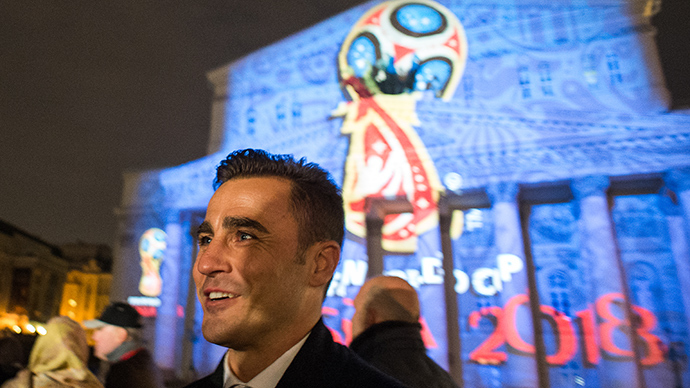 The logo for the 2018 World Cup, which was revealed by Russian organizers on Tuesday, went viral in an instant, fueling the imaginations of numerous internet users who tried to discover the true inspiration behind the emblem.
In a rather creative verdict, some were able to compare the logo to a famous work of art, saying the emblem resembled 'The Scream' by Norwegian painter Edvard Munch.
Edvard Munch is the man behind the #Russia2018 logo, apparently. pic.twitter.com/UpH0SoVA6m

— Lee Thomas-Mason (@LeeThomasMason) October 29, 2014
Others pointed to the electric shaver design with three shaving heads, which they said resemble the 'magic windows' in the emblem.
Russia unveils its logo for that soccer thing happening in 2018. pic.twitter.com/JYSKPDK76m

— Kevin Rothrock (@KevinRothrock) October 29, 2014
Even fictional cartoon characters were added to the critiques, with some saying the emblem bore a striking resemblance to Disney's Nemo or Roger the alien from the 'American Dad' television show.
So, after Russia released its World Cup 2018 logo, here's @reymysterio's reaction.#WorldCup#Russia2018#WorldCup2018pic.twitter.com/r2f4ycqv91

— CityZen Inside (@MarcusAlfred24) October 29, 2014
New @FIFAWorldCup logo is large-jawed man eating hopeless ghost. #2018WorldCuppic.twitter.com/nXpyUdz9cX

— Ross Bruggink (@rossbruggink) October 28, 2014
One is the new World Cup logo. The other is Roger from American Dad. Which is which? #WorldCup2018pic.twitter.com/geq3mB3rqc

— Iain Munro (@iamthemunro) October 28, 2014
Anybody think the #Russia2018 logo looks like it has a little shaggy hairdo? Back in the USSR, y'all. pic.twitter.com/6Da5LnTocr

— Killy Fiendly (@billykeenly) October 28, 2014
@buxalov: The alien invasion will begin in #2018WorldCup Designers reptiloid already among us #Russia#FIFA#ЧМ2018pic.twitter.com/lAcLtymciq

— Nikita Bukhalov (@buxalov) October 28, 2014
Turn the new #Russia2018 World Cup logo on it's side and... #FindingNemopic.twitter.com/OMG8HKMfLX

— Conor McNamara (@ConorMcNamaraIE) October 29, 2014
However, the Russia 2018 logo received a more favorable reaction than its Brazil 2014 counterpart.

Both emblems followed the trend of repeating the shape of the World Cup trophy, but this year's Brazilian logo was slammed online for looking like a person making a "facepalm" motion.
Can we all agree that the Brazil 2014 Logo is fail? It looks like Picard's facepalm: #BrazilFail#WorldCup2014pic.twitter.com/OtaQDx02KQ

— Bartosz Scheller (@BScheller_) June 14, 2014
The Russian logo managed to garner a bit of support from the media, with USA Today calling it "surprisingly great" and "beautiful," after years of boring and unintentionally funny designs.
Russia's 2018 World Cup logo is surprisingly great - http://t.co/vGJmQZFBvNpic.twitter.com/LVviSqnop6

— For The Win (@ForTheWin) 28 октября 2014
The emblem was created by Portuguese consultancy Brandia Central, which has provided logos for Euro 2012 in Poland and Ukraine and Euro 2016 in France.

The Russian logo's designers said the emblem is actually a magic ball that pays homage to the Sputnik – the first ever artificial Earth satellite, launched by Soviet Russia in 1957.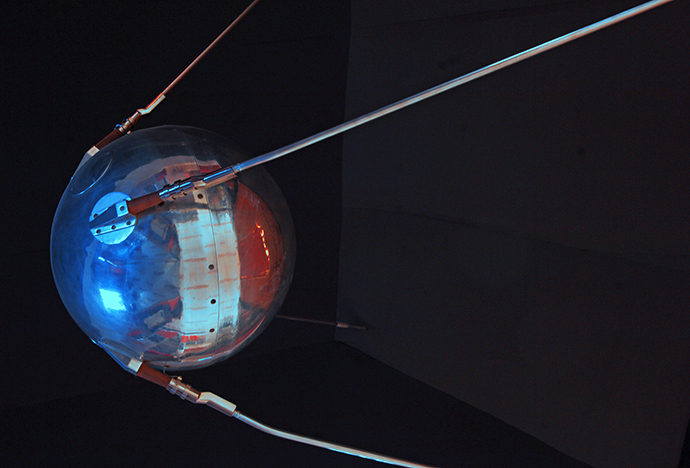 Thirty-two of the world's top national football squads will gather in Russia from June 8 to July 8, 2018 for the famous football tournament.
The matches of the tournament are to take place in Moscow, St. Petersburg, Sochi, Kazan, Saransk, Kaliningrad, Volgograd, Rostov-on-Don, Nizhny Novgorod, Yekaterinburg, and Samara.