Unbendable iPhone 6? You'll need titanium 'Putinphone 2'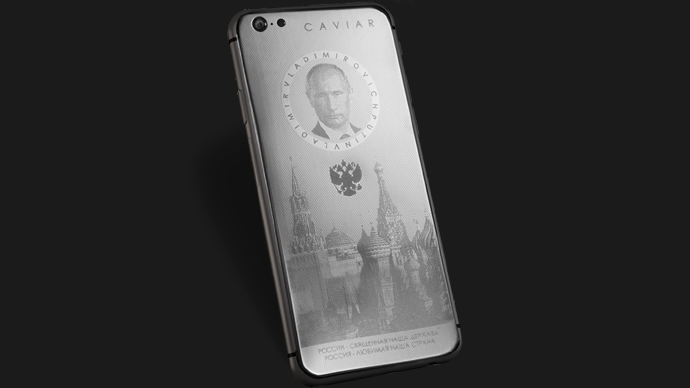 An Italian boutique awed with the success of its Putinphone experiment has launched a new line – this time with iPhones 6, using titanium to counter #bendgate. The phone - surely - sports an engraving of the Russian president.
The new version will cost a bit less: the price tag is around $3,600 as compared to $4,350 for the previous batch.
The Caviar Supremo Putin II's predecessor, which used iPhone 5 (not plagued by bendability yet) as the base model, saw all of its 144 items sold in a matter of days in June.
Beside the "pleasant tactile feeling," the telephone was set to bear Russia's coat of arms and the first two lines of the national anthem. But while the 18-carat gilded back allowed embossing, the titanium cover could only be engraved.
The company intended to manufacture a limited series of 299 pieces, but a statement from the Kremlin seems to have made the series even more limited.
Vladimir Putin's press-secretary Dmitry Peskov told journalists on Monday that his boss does not really welcome the commercial use of his image.
"His attitude to this is negative. On the other hand, we aren't seeing such cases for the first time; the picture of the president has been repeatedly used in various gadgets. Fighting such manifestations is not among our priorities, this is not the main issue on our agenda," Izvestia daily quoted Dmitry Peskov as saying.
Though Peskov mentioned that the presidential administration is not "fighting such manifestations," the Caviar Company told Izvestia on Tuesday that "Putinphone" production will be suspended.
"After learning about the president's discontent with the use of his portrait, we immediately ceased the production of the Caviar Supremo Putin II," Caviar's press-secretary Anna Lobova said.
"Though we planned to manufacture 299 items, there will be no more phones made and those already produced will be the only ones," said Lobova, specifying that a little bit more than a hundred of the new phones have so far been produced.