Price of patriotism: Golden 'Putinphone' on sale for over $4,350
Supporters of Russian President Vladimir Putin now have a new extravagant way of expressing their affection. An Italian luxury brand has launched a limited line of golden iPhones bearing the image of the leader.
The Caviar iPhone5S Supremo Putin, created by Perla Penna jewelry house, went on sale with a price tag of 147,000 rubles (about US$4,352).

Putin's portrait, which is engraved on the gadget's 18-carat gold case, is accompanied by the Russian coat of arms and the first two lines of the Russian national anthem.

The so-called 'Putinphones' are meant to target "people of the highest circle," the company says.

"It's time to feel real pride and take a clear-cut stand, without needless chat," Perla Penna said while addressing potential customers.

"The most powerful person according to Forbes and Time – President Putin has come to symbolize the new generation, the leader of will and resolution."

The company describes the phone as being a statement, as well as the "best expression of patriotism."

The Russian president now joins the ranks of Leonardo de Vinci, Mohammed Ali, and Steve Jobs, whose faces have also been featured on Perla Penna's golden phones.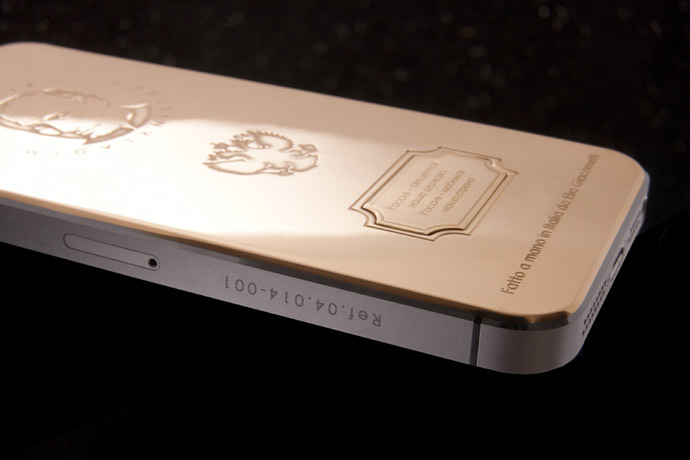 Read more: Two-thirds of Russians want Putin to remain president after 2018
Meanwhile, a recent poll conducted by the Public Opinion Foundation found that 66 percent of Russian citizens want Vladimir Putin to continue his presidential post for the next term. The respondents especially praised his efforts in foreign policy and strengthening the Russian military.

Two-thirds of Russians also claimed that Putin's policies were fully in line with their own interests. The number rose from 36 percent in September 2012 to 66 percent in June 2014.
You can share this story on social media: