Clashes erupt in Berlin amid fall of the Wall, Kristallnacht events (VIDEO)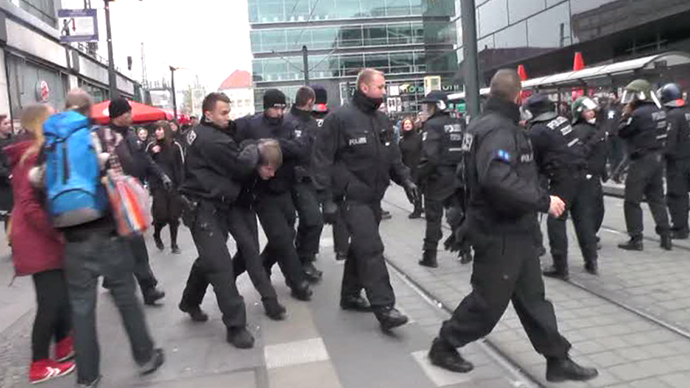 Clashes and arrests marred the anniversary of the fall of the Berlin Wall, as several hundred left-wing activists met far-rights in the city center. The latter were rallying in commemoration of the 1938 Kristallnacht Nazi attacks against Jews.
On Sunday, left-wing activists held a non-sanctioned demonstration near the capital's Alexanderplatz train station against the fall of the Berlin Wall, while most Berliners were commemorating the 25th anniversary of the event.
Movement against today's fall-of-the-wall anniversary celebrations #fotw#berlinpic.twitter.com/JLoDVDi8Xe

— Rachael Newport (@Rachael_Newport) November 9, 2014
Meanwhile, nationalist activists gathered for a demonstration to commemorate the attacks of the Kristallnacht - or the "Night of Broken Glass" - when in 1938 the Nazi authorities launched a series of coordinated attacks against Jews throughout Nazi Germany and Austria.
#antifa#nazi standoff in #alexanderplatz train station pic.twitter.com/JjzGUigF6R

— Rachael Newport (@Rachael_Newport) November 9, 2014
The participants of the two demonstrations clashed as both sides reportedly threw incendiary devices and bottles at each other.
Police arrest #Antifa members as they clash with #Nazis#Alexanderplatz#Berlin#fotw#Kristallnachtpic.twitter.com/8N6w59D3Hg

— Rachael Newport (@Rachael_Newport) November 9, 2014
Police made several arrests in attempts to disperse the crowd. Following the clashes police switched to riot gear.
Police switch to riot gear following clashes with #antifa#berlin#fotwpic.twitter.com/rtbz8sj60x

— Rachael Newport (@Rachael_Newport) November 9, 2014
Meanwhile, at the main Wall anniversary speech on Sunday, German Chancellor Angela Merkel also noted the significance of this day for the country due to the Kristallnacht attacks.
"That was the opening note for the murder of millions," said Merkel, adding that on this day each year "I feel not just joy, but the responsibility that German history burdens us with."
Sporadic clashes also occurred during a small pro-Novorossiya demonstration in Berlin on Sunday, as a counter-protester grabbed the microphone of the one of the Members of Staatenlos group onstage. Police also clashed with demonstrators at the rally.
You can share this story on social media: