Russia and Peru agree to boost food imports, may share GLONASS
Russia is interested in increasing imports of Peruvian fish, marine products and fruit in the face of the ongoing sanctions war with the West, Vladimir Putin said after talks with Peru's president, Ollanta Humala.
"I would like to note that additional opportunities are opening up for deliveries of fish, marine products and fruit from Peru," the Russian President said after talks at his Novo Ogaryovo residence outside Moscow.
Humala said that "new dynamics" should be added to trade relations between the countries, confirming Peru's readiness to supply food products to Russia.
"We should ease the access of these products. We should unite efforts to understand how to facilitate bureaucratic procedures in Russia and Peru so that not to hurt consumers and manufacturers," the Peruvian leader is cited by TASS news agency.
The Russian president expressed hope that "it would be possible in principle to double reciprocal trade in the years to come" as bilateral trade volumes between Russia and Peru have increased 2.5 times over the past five years.
In August, Russia imposed a year-long ban on food imports from the EU and US, following several waves of Western sanction against Moscow over its alleged involvement in the turmoil in Ukraine.
President Putin also expressed eagerness to assist the Latin American state in developing its nuclear sector and other energy projects.
"We are also ready to offer our experience and state-of-the-art technologies in the implementation of Peru's nuclear sector, nuclear science and medicine development plans," he said.
Such big Russian companies like Russia's Power Machines and Inter RAO have shown interest in working in the Peruvian energy market, the head of the Russian state stressed.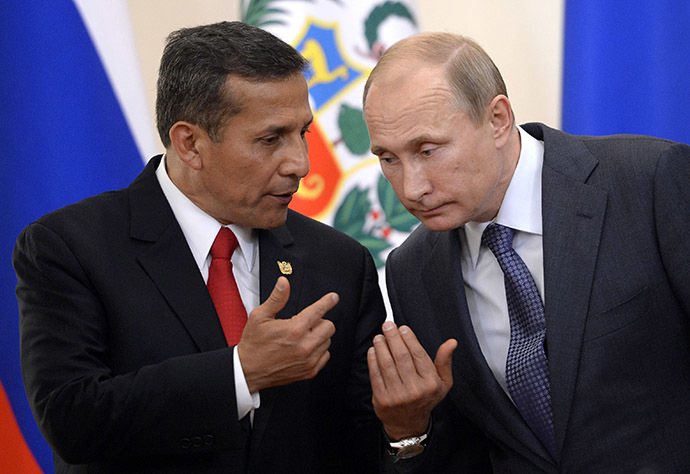 Moscow and Lima are also working out a possibility of joint use of Russia's space-based satellite navigation system, GLONASS.
The two states also see serious prospects for cooperation in telecommunications and outer space exploration, Putin said.
"The first Peruvian micro-satellite was put into orbit in August with the participation of Russian specialists," the Russian president said, adding that two more spacecraft are expected to be put into orbit.
Russian companies are also helping Peru to introduce mobile internet communications with the use of 4G broad-band technologies, he added.
Humala said that his current visit to Moscow is a confirmations "of desire of my government and my country to strengthen and develop friendship and cooperation" with Russia.
On Friday, Russia and Peru signed agreements on the environment, tourism, cooperation in tackling illegal drug trafficking and exchange of statistics.
Moscow and Lima are also considering the issue of supplying Russian civil helicopters and jets to Peru, Putin said.
"Russian Helicopters are promoting Mi and Ka class helicopters, while United Aircraft Corporation (UAC) is in talks to deliver civil aircraft to Peru," he explained.
Putin has called Peru "a long-standing and reliable partner" of Moscow, adding that Humala became the first Peruvian president to come to Russia during the 140 year relationship between the countries.
You can share this story on social media: