We will never play by US rules – State Duma chief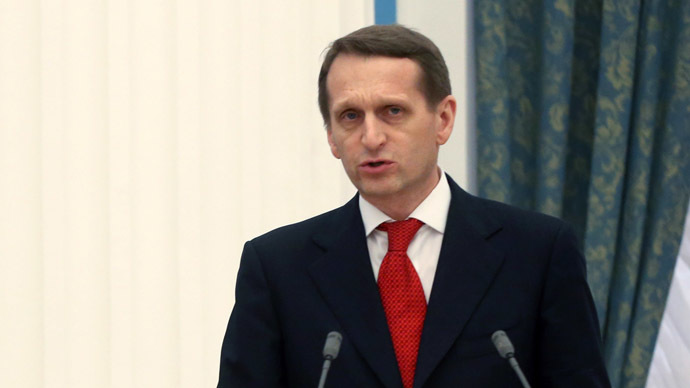 The State Duma speaker believes the US want to stop mutual dialogue between Russia and Europe, but this will not happen as Russia will keep looking for every opportunity to mend ties with its neighbors.
Russia's top parliamentarian said in an interview with the popular daily, Komsomolskaya Pravda, that proper political work required constant contact not only with allies but also with opponents.
"This is important and those who wish us harm, first of all certain representatives of the United States, would like to deprive us, themselves and Europe an equal dialogue on key urgent questions," Naryshkin told the newspaper.
"Let us not play by their rules, not do what they are pressing for. If we help them in this it would be a big present to the 'hawks.' On the contrary, we will seek for every opportunity to hold a dialogue so that everyone can hear our position," the Duma speaker added.
In September, Naryshkin told fellow lawmakers in a parliamentary speech that recent steps taken by the United States and its allies were "cynical and irresponsible" and could result in a renewal of the Cold War.
Naryshkin also noted in his speech that the chaos in the center of Europe has not cooled the belligerent moods of those who provoked it six months ago. He highlighted the recent NATO summit as one of the factors ratcheting up tensions.
At the same time, Naryshkin said the situation would unmask misdeeds and the real truth would be shown to ordinary European citizens. "We see that many citizens of European nations, who are practically living under an information blockade, have started to inconveniently question their national authorities."
In April this year, the Parliamentary Assembly of the Council of Europe approved an anti-Russian resolution over the political crisis in Ukraine, depriving the Russian delegation of the right to vote and banning it from participation in PACE's ruling bodies and monitoring missions till the end of the year.
In reply, the State Duma made a statement claiming nations who repeatedly violated international law, causing thousands of casualties, have no moral right to judge Russia or impose sanctions on it. Russian MPs also stated that they consider it impossible to resume dialogue at PACE while sanctions against Russia are still in force.
You can share this story on social media: