Paraguay woman shot with arrows, burned alive for 'witchcraft'
A Paraguayan woman was shot with arrows and burned alive by a group of her tribesmen for the alleged offense of 'witchcraft.' Nine men have been charged by prosecutors with first-degree murder in the shocking case.
Adolfina Ocampos, 45, was first tied to a tree, then was shot with arrows, before she was set on fire while still breathing. She was sentenced by the Mbya Guarani tribal community's chief.
The village of Tahehyi is some 290 kilometers (180 miles) away from Asuncion, the country's capital.
Prosecutor Fany Aguilera has issued first-degree murder charges against all nine men. They did not try to deny having carried out her "sentence."
The practice echoes worrying statistics by the UN Refugee Agency, whose estimates worldwide put the number of people accused of witchcraft and sorcery in the thousands. Most of the time they undergo a horrifying ordeal, which starts with family and community exclusion and ends in a violent death.
There is often a conflict between ancient customs and legality in countries where such practices are commonplace. According to an official statement from the Paraguayan government agency for the protection of indigenous people, "although the indigenous communities are ruled by customary law, their acts cannot violate the constitutional rights of respecting the life and the liberty of people."
In some countries, the line between the two legal systems are blurred into one singular law, as in Saudi Arabia, where the Commission for the Promotion of Virtue and Prevention of Vice may hold viewpoints or practices that sharply conflict with common notions of human rights.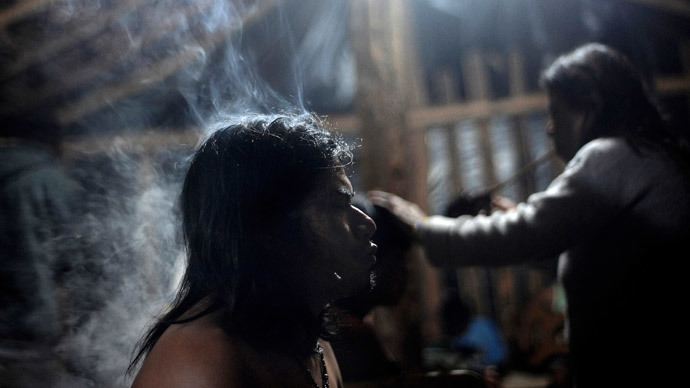 READ MORE:'Source of all evil': Top Saudi cleric slams Twitter
The Saudi religious watchdog monitors those social media accounts that "are spreading vice and witchcraft" through the community, said Ahmed Al Jardan, the Commission's spokesman, as quoted by the Saudi news network Al Arabiya.
Even the UK – a country priding itself on its rule of law, a recent spike in child abuse relating to witchcraft and religious custom was recorded. This sometimes involves rape, physical assault and overall neglect of British children.
According to figures released by UK police on Wednesday, Scotland Yard received 27 allegations of ritual child abuse, with many more cases believed to be hidden by families and guardians. In 2013 that figure stood at 24. But in 2011 it was only nine cases.
READ MORE:Huge rise in UK child abuse through witchcraft and 'religious rituals' – police
The African continent can sometimes hold some of the most extreme examples of witchcraft and sorcery manifested in communal beliefs: Madagascar is one place where people resort to accusations of witchcraft over a whole number of everyday issues that inconvenience people.
As recently as last month, the country made headlines for burning alive two Europeans thought to be smuggling child organs back home for what the local community thought were witchcraft rituals. The rampant poverty and lawlessness often ensure that communal distrust evolves into dramatic violence.
One thing that makes the Paraguay case unusual, however, is how rarely such a thing occurs there.
"I've been working in Paraguay for 40 years and I can't remember a similar episode of an execution for alleged sorcery… The tragic death of this woman is isolated and out of the ordinary within the coexistence of Paraguay's 20 ethnic indigenous groups. In general, the Indians are very peaceful and tolerant," anthropologist and Catholic priest Jose Zanardini said, AP reported.
You can share this story on social media: