Killing the colorless for luck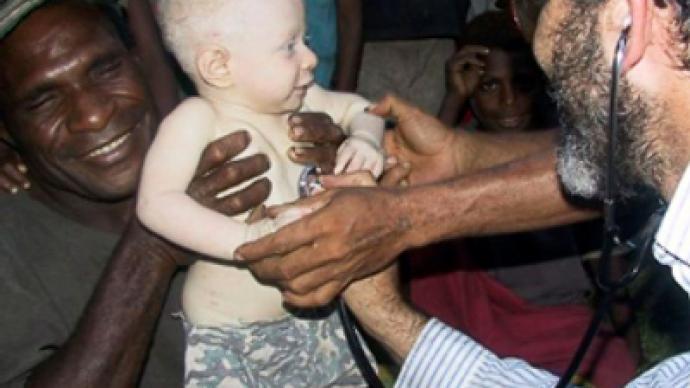 In the West, there is a black market for people looking to buy organs to save their lives. In Africa, there is a 'red market' where people buy magical body parts to elicit riches and good luck.
Africa's market is red because it's brutal, bloody and fatal. The stock is obtained from albinos—people who are considered unlucky and cursed when alive.
The slaughter of albinos for magical purposes is not a new phenomenon. But market growth has led to an increased number of murders which have propelled the issue into the world's view. Now, governments are trying to mop up their images.
Tanzania carries the deepest scars to its reputation.
"They are cutting us up like chickens. Our biggest fear right now is the fear of the living," said Zihada Msembo, Secretary General of the Tanzania Society of Albinos.
A girl named Mariam, who witnessed her five-year-old albino sister's murder, provided gruesome details to support the claim.
Mariam said that, in the middle of the night, three men with a torch came into their bedroom. As she peeped from under a blanket, she watched as one man held her sister down and another slit her throat. "They collected her blood in a tin, drank it and then cut both her legs off under the knee and clipped her tongue. They put it all in a bag and ran away."
Mariam's sister was only one of at least 50 albinos savagely murdered within a year to supply Tanzania's market.
As part of an effort to stop albino killings, President Mrisho Kikwete last year appointed Al-Shaymaa Kwegyir as the first albino Member of Parliament (MP).
Kwegyir has begun traveling, under guard, to rural areas in attempts to educate people and to humanize albinos.
In rural areas, the problems are exacerbated by people whose health and welfare authorities are traditional healers and witch doctors, some of whom prescribe various albino potions for luck. These people are believed to be spurring the killing sprees.
"The legs of an albino are the most prized as they are believed to bring more wealth to miners," says MP Kwegyir.
It is the bones in particular that they seek. Grinding them to dust, some miners wear the powder in amulets around their necks. Others bury the bones where they dig aiming for a wealthy yield.
"Hair attached to fishing nets is supposed to induce a good catch," Kwegyir adds.
Other parts that are removed and sold include the genitals, the arms and the head.

Earlier this year, Tanzania revoked the licenses of all traditional healers to help curb their influence. The government also distributed a secret ballot encouraging people to snitch on those suspected of crimes against albinos.
However, these measures did not close the market. Tanzania's demand is held responsible for encouraging the practice in neighboring Burundi.
In less than a month, preceding a March investigation that led to the bust of a murder ring, at least four albinos were slaughtered in Burundi.
Prosecutor Nicodeme Gahimbare led the two-day manhunt that brought down the gang. "They had albino bones with them," he said. "Some of them still fresh."
Authorities speculate that the goods were destined to cross the border.
Despite seemingly earnest efforts to reverse the trend of albino murders, around 200 people have been arrested in Tanzania but not a single person has been convicted of murder.
Burundi could rectify that record and set an example for the continent. Last week marked the beginning of an unprecedented trial. 11 people are facing charges of murder and attempted murder of albinos. If convicted, the accused could get life sentences.
A conviction could also pave the way to answer MP Kwegiya's prayers.
"I know one day the killings will stop," she says. "I know. God will help us because we are human beings and also because we are praying. God will help us because we are innocent."
Michelle Smith for RT
You can share this story on social media: