Millions of Shias worldwide celebrate Ashura, events marred by violence (GRAPHIC IMAGES)
Published time: 4 Nov, 2014 21:03
Edited time: 6 Nov, 2014 09:14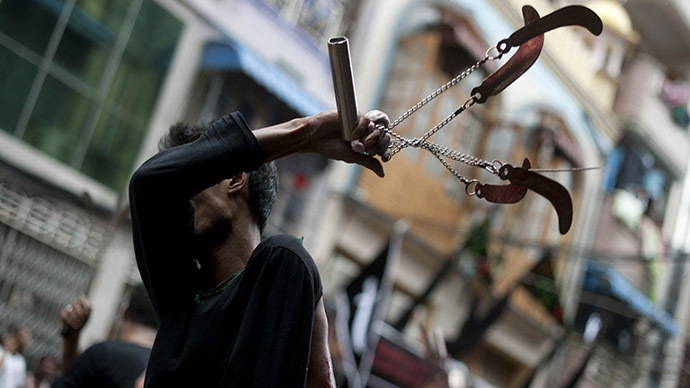 A string of bombings and shootings marred the Ashura celebrations across the Muslim world – the main Shia holiday during which believers impassionedly gash their bodies with swords to show their grief for the suffering of Imam Hussein.
In Sunni-dominated Saudi Arabia the holiday was marred by a shooting that killed at least eight Shias in Eastern Province late on Monday.
The Saudi Interior Ministry said that security forces on Tuesday shot dead two suspected members of an armed group behind the attack.
A series of suicide bombings targeting Shia worshipers in Baghdad killed at least 16 people on Monday ahead of the celebrations in Iraq, medical officials said.
Islamic State militants who have gained control of a large part of the country and consider Shias heretics have reportedly claimed responsibility for this attack and the Sunday car bombing that killed at least 18 in the capital.
Shia Muslims worldwide are holding ten day celebrations marking the holiday which commemorates the death of Imam Hussein, Prophet Mohammad's grandson, in VII century.
Imam Hussein died in the battle of Karbala in 680 AD, the event which has been retold during the celebrations or reenacted as a lively theatrical performance since the XIX century.
Among the rituals is the tatbir which is performed by cutting oneself with a form of a sword on the head in remembrance of the innocent blood of Imam Hussein.
Some believers also hit their backs and chests with blades attached to chains.
Different views on the events of the battle of Karbala and Imam Hussein's death is one of the points that define Shi'ism and its rift with Sunni Islam.