Saudi Shia leader sentenced to death for role in anti-govt protests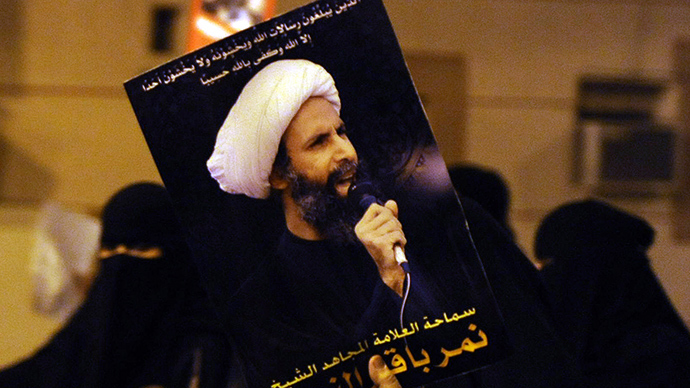 Sheik Nimr al-Nimr, a figurehead of the Shia minority protests that have rumbled in Saudi Arabia since 2011, was sentenced to death on Wednesday, his brother announced on Twitter.
Mohammed al-Nimr said his brother was found guilty by a Riyadh court of "encouraging foreign meddling" from Iran, and disobeying the government with armed resistance. The verdict was the conclusion of a trial that began in March 2013, according to news agencies.

Al-Nimr and his family have claimed that the influential cleric espouses a "peaceful and non-violent approach," and have called the verdict "political."

"The death sentence will shock everyone here and it will reduce very much the credibility of the state among Shiites. I think the government is giving a show of strength against anyone who thinks of opposition," Tawfiq al-Seif, a community leader in Qatif – the eastern heartland of the protests that were sparked by the Arab Spring over three years ago – told Reuters.

Prosecutors had asked for al-Nimr – who had been dubbed "mentally unstable" by a government minister – to be executed by crucifixion, which involves a beheading, followed by a public display of the body. But it is unclear if this is the form of execution due to be used, as Mohammed al-Nimr said that his brother had avoided the charge of hadd al-haraba, or insurgency, the punishment for which is a public display of the convict's dead body.

"Probably they want to show people the sword but not actually use it," Seif speculated.

Last year, international group Human Rights Watch said that Nimr al-Nimr had not received appropriate medical care during his detention, and was denied access to a qualified defense team during his trial. The organization summarized the actions of the Saudi legal system – which has no penal code – as "unfair" and "arbitrary," adding that its propensity for "outrageous and gruesome punishments" did not comply with any international standards.

Al-Nimr and his Shia supporters – who are thought to number between five and 20 percent of the population and are concentrated in the oil-rich east of the country – say they have no voice in the Sunni-dominated kingdom, and are financially neglected by Riyadh.

But the government has not been keen to make concessions.

After brutally putting down the initial wave of demonstrations, government forces shot al-Nimr multiple times during his capture in 2012, and killed three more Shia protesters during the suppression of rallies that followed. It also sentenced al-Nimr's nephew to death, though the verdict has not been carried out.

As a conciliatory gesture, the government has included three Shias in the country's largely symbolic 150-seat Shura Council, a parliament that serves as an advisory body to the al-Saud royal family, which enjoys an almost total monopoly of power in the conservative state.
You can share this story on social media: