​Aggravated contraband? Argentina accuses P&G of tax fraud, suspends operations
Published time: 4 Nov, 2014 01:07
Edited time: 4 Nov, 2014 01:08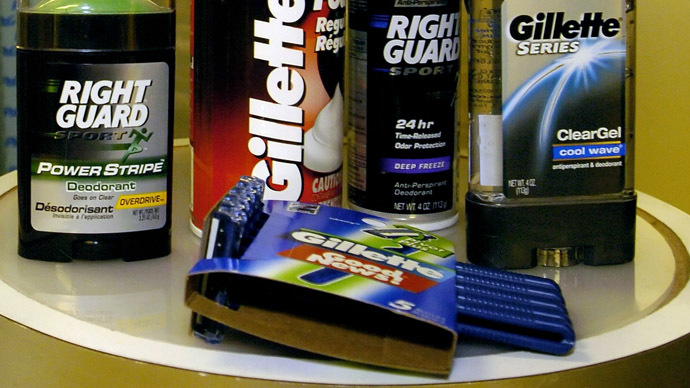 Procter & Gamble has been accused of tax abuse and funneling currency abroad by the Argentinian tax bureau AFIP. The household giant is working on "immediate solutions" to the suspension of all its operations and activities pending investigation.
According to a statement by AFIP, P&G allegedly overbilled invoices on its products imported in Argentina with an aim to withdraw money from the country through a Swiss-based subsidiary. It is also accused of tax fraud.
In what could be considered an act of "aggravated contraband," the agency claims P&G was including "royalties" and other expenses of "intercompanies" in the price of its razors and other hygiene products imported from Brazil. The total cost of some 2,608 suspicious operations investigated by AFIP is stated as US$138 million.
The US-based Procter & Gamble household product manufacturer said it is currently working for "immediate solutions" to the suspension of its operations in Argentina.
"P&G pays all its taxes, in Argentina and in the world," the company said in a statement cited by Buenos Aires Herald. "We take compliance with Argentina's laws very seriously...We do not carry out questionable or aggressive fiscal operations since they do not result in [sustainable] consequences."
"We value our relationship with Argentina and with Argentinean consumers. We are working with the authorities for immediate solutions that allow us to continue to supply the market with our leading brands," it added.
AFIP also addressed authorities to prevent local Procter & Gamble managers from leaving the country until the issue is resolved, forcing the company to pay its tax bills and fines.
"Our main objective is for P&G to return to the Central Bank the diverted funds and pay the customs penalties and the tax on the earnings that was avoided by the price manipulation," said AFIP chief Ricardo Echegaray, as quoted by AFP. "We have got to put an end to multinationals using harmfully plotted out tax maneuvers" that hurt national governments, Echegaray added.
READ MORE:Argentine president hints at US plot to remove her
Procter & Gamble operates in 180 countries and distributes about 300 brands – including Gillette, Duracell, Pantene, Ariel, and Pampers. The company has been operating in Argentina since 1991 and currently runs three manufacturing plants and two distribution centers in the country.