​Argentina to get $1bn in currency swap with China before end of 2014
Argentina will receive the first tranche of yuan worth up to $1 billion in a massive currency swap with China before the end of this year. The deal will boost the troubled economy's foreign reserves.
It comes as part of a loan worth $11 billion signed in July by Argentina's President Cristina Fernandez de Kirchner and Chinese counterpart Xi Jinping during his Latin America tour - shortly before the country fell into its second default in 12 years.
The Central Bank of Argentina announced that the value of the first disbursement will be between $500 million and $1 billion, according to La Nacion newspaper.
Once it's got the money Argentina has two options – it could convert the yuan into to dollars in Hong Kong or London, or it could hold the yuan as part of a package of currencies comprising the international reserves of the Central Bank - as Chile and Bolivia have done.
The head of Argentina's central bank Juan Carlos Fabrega, met his Chinese counterpart in Basel, Switzerland on Sunday to discuss the mechanism for the currency swap.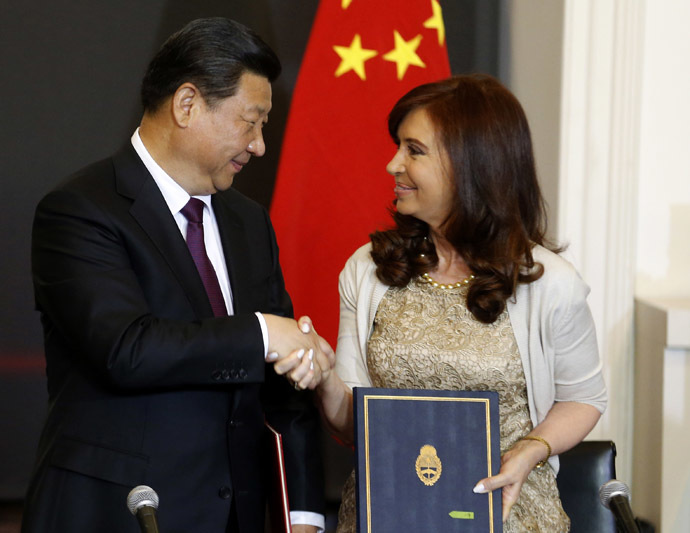 The deal is aimed to increase the national foreign currency reserves as Argentina has been suffering from capital flight and a dollar shortage since 2011, making it difficult to legally trade pesos for US dollars.
After Argentina fell into economic collapse in 2001-2002 and the currency devalued it became almost impossible for the country to attract international loans at the market rate.
In order to meet its international payments Argentina was forced to use foreign reserves plunging them to their lowest level in more than seven years.
Adding to its financial woes the country fell into technical default in July after a US court blocked a coupon payment to holders of its debt because of a legal fight with US investment funds who rejected the bond swaps that followed the country's record 2002 default.
You can share this story on social media: