​Donbass election day ushers in 'the real ceasefire'
Published time: 3 Nov, 2014 20:32
Edited time: 3 Nov, 2014 20:57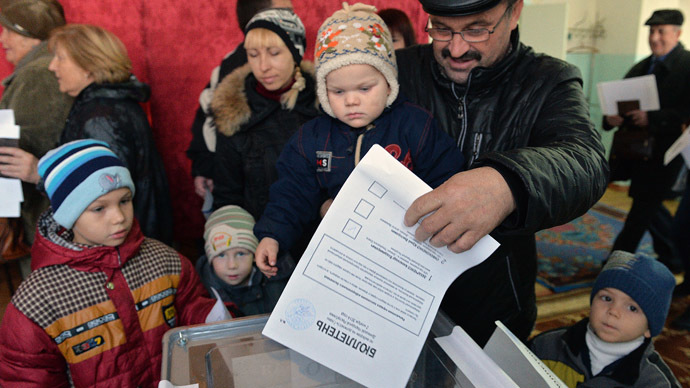 Kiev refuses to recognize the elections in eastern Urkaine – but has not provoked any hostilities either.
The Donbass elections resulted in a predictable outcome, bringing victory to Alexander Zakharchenko, head of the Oplot battalion, who scooped more than 70 percent of the votes. Turnout varied from 65 percent to 100 percent at 350 polling stations, where 1,148,000 people had registered to vote.
This election has been surprising in two ways.
First, not a single shot has been fired in Donbass since November 2 – a situation unseen since spring, including the ceasefire declared in early September after the Minsk talks.
Second, the most successful Donbass commander, Igor Bezler, handed in his resignation just before the election.
On Sunday, Alexander Zakharchenko made his first public appearance in a tieless shirt (instead of his military uniform). Accompanied by his wife and a few dozen combatants, after casting the ballot he showed up to Lenin Square, where white trucks carrying humanitarian aid from Russia had lined up next to the Lenin Monument. Previously, humanitarian cargos used to be unloaded outside warehouses by the railway. Now the square is also a concert venue to celebrate the elections.
Whenever Zakharchenko goes, the militia cordon off the adjacent streets, causing annoyance to many. But those who make it through his bodyguards can still approach him.
The self-proclaimed Donetsk People's Republic has no president. Zakharchenko is the prime minister.
His deputy is IT professional Andrey Purgin.
Purgin is a smart, well-educated man who moves around unescorted, walks often, and does not intend to change his habits.
When asked if what happened in Donbass was a "left-" or "right-led" revolution, he said that "right-wing ideas dominated the revolution, and its soundtrack was Zhanna Bichevskaya's songs."
Zhanna Bichevskaya is a Soviet folk singer who borrowed a lot from Joan Baez in her singing style. In the 1970s, she was the first performer in the USSR to sing songs of the White movement, who fought the Bolsheviks in the Russian Civil War. She also sang numerous Russian folk and Cossack songs. In the Soviet Union, many sought escape from ideology into music. Many former Soviet citizens, including residents of Donbass, prefer to lament Soviet and imperial Russia's past rather than develop new ideas.
"Our biggest problem is that our political class is too weak," said Purgin. "Too few people can generate ideas today. Meanwhile, intellectuals are in self-imposed isolation. Their only connection to this land is banknotes with Mazepa's portraits (Ivan Mazepa was a Cossack leader who opposed Peter the Great 300 years ago), and they do not remember the taste of victory."
He calls these intellectuals "professional Russians." As the fighting began, they fled the country.
"It is unclear who the winner is," said Purgin.
This sounds bitter and painful.
The Communist party was banned from the elections. Only 20 years ago, Communists were the most popular party in Donbass. Both left-wingers and right-wingers have yet to give proper wording to their ideas.
One can often hear people in Donbass say that militias oppose Ukrainian oligarchs, who are to blame for the bloodshed.
"We are going to see large corporations grab seats in parliament – vicariously, of course," added Purgin.
Looks like the time for ideas has yet to come in Donbass.
Purgin confirmed Igor Bezler's resignation. "He was a great commander. But the active military phase is over," the vice-premier told me.
Purgin has put some unusual ideas on the agenda – he wants to make the church as powerful as in Greece and Cyprus, with amendments to this effect to be enshrined in the region's constitution.
"The church must be an additional arbitrator, an institution with authority that weighs in on issues, including ethical ones," he explained.
The vacuum of ideas is the most startling thing about Donbass today, as all the banners – as varied as imperialist and monarchist – are gone six months after the May independence referendum. All that's left is the black and orange St. George's ribbon.
Foreshadowing of a grim future
Polling stations look very much alike, the only difference being the number of windows shattered by the shockwave from explosions.
When we come to the city center, we see some stands outside a polling station with vegetables sold by local businessmen. They don't charge much – a kilo comes at a symbolic price of 1 hryvna (US$.07). There is a line, but it's not longer than inside polling stations.
The Kiev district of Donetsk is closest to the city airport and has arguably suffered the most from relentless shelling. The turnout is quite high, but the proximity to the strategic site has had its effect. Security officers examine journalists' IDs more carefully and the locals are more reluctant to speak of their experiences and pose for a photograph.
Raisa, 74, has cast her ballot. Born in Donbass, she worked as a math teacher. She doesn't have a vegetable patch near her home, like many others. He uncle and niece used to work in the Soviet Foreign Ministry but she lost contact with them after the collapse of the Soviet Union. Her husband died, pensions have not been paid for five months, and she now has to beg outside a church. She was baptized at nine.
Thomas, 42, was born in Ethiopia but came to study in Donetsk. He got married and has been living here for 23 years. He had to abandon his profession, biochemistry, due to the lack of jobs on offer. There are 15 Ethiopians living in the Donetsk Region. He is the only earner in a family with two children, his granny, and his mother-in-law.
"I've never experienced any incidents of racism. My children go to school and have never complained about it," said Thomas. He is a Christian, and goes to church every Sunday. He says he's too old to be part of the militia. He imports coffee from Ethiopia and makes money selling it here. He says he is not going to leave.
People who come to the polling stations hope that the vote will have a political impact. "We have come here to vote but not for Russia or Putin. You know, I broke ties with my relatives in Kiev. Don't want to hear anything about them. This vote is supposed to give legitimacy to our state. Homes will be fixed after the border issue is resolved. It doesn't make any sense to fix it today, with shells still coming down on our houses," I was told by Oleg.
Oleg put veneer panels on the windows because the glass was broken. He sent his family to spend some time in the countryside, and has been doing odd jobs to earn some money at the market. He's also doing a correspondence course in economics.
People are not afraid to criticize the new authorities.
Alexey, 30, said "everyone's been sick and tired." He didn't vote and told me a story of how his friend, a businessman, disappeared one day, along with his car. Alexey believes it was the new strongmen that wanted a share in his revenues.
Mikhail, just above 50, used to work in an office. "The militia just confiscated the office, and the business had to be shut down," he said. Mikhail didn't vote, either. "I don't think there's anyone to vote for."
Many are certain that the war will continue. The peace and quiet on election day is seen as a foreshadowing of a grim future, rather than as a sign of lasting peace. Some say the fighting will resume tomorrow, some say it will be next week, the most optimistic put it off until New Year or even next spring. There's no feeling that peace will reign after the election. The Ukrainian TV channels do not broadcast here anymore – but neither do Russian channels. So people are not aware that the active military stage "is over."
Jene Flight, Donetsk