No kissing! Dozens detained in India as Kiss of Love protest ends in crackdown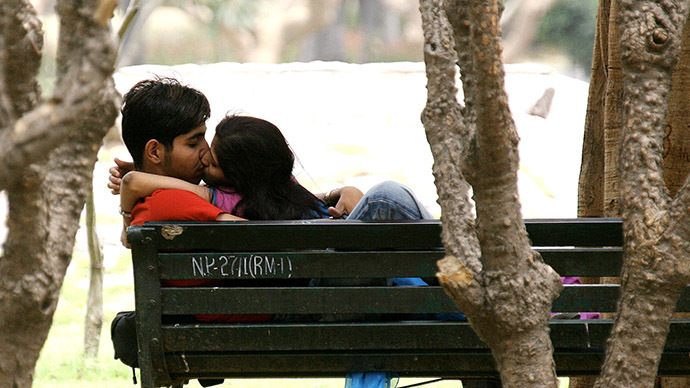 A 'Kiss of Love' rally in India has been disrupted by police, with dozens detained. Very few managed to carry out the main purpose of the campaign, which was to express their love in public.
In the city of Kochi, police took the organizers, a group of Facebook users called 'Free Thinkers', and the participants, all in all about 50 people, into "preventive custody."
As the participants were being arrested, some began kissing in defiance of the police.
Weather you were supporting the protest or not, all wil love this picture #KissOfLovepic.twitter.com/MFve1rKhwq

— Shahanas Haidar (@shahanas1411) November 3, 2014
The rally was planned as follows: the couples gathered at the city's Ernakulam Law College, and were supposed to march to the main protest venue, the Marine Drive Grounds, and express their love in any way they considered appropriate: kiss, holding hands, etc.
#KissofLove has reached my WhatsApp pic.twitter.com/4i9v9z4Iud

— B (@BurgerrB) November 2, 2014
Views of young people on the campaign were split, with the Youth Congress and Students Federation of India speaking in favor of it, but the Kerala Students Union was fiercely against.
Hundreds had been expected to turn up, but the publicity attracted thousands, including many curious onlookers. A counter-march by those opposing the campaign took place nearby.
"This is such a masculine space. Forget about expressing love, we can't express ourselves mostly," a girl who came to support the protesters told NDTV.
One banner read: "You can cut all the flowers but you cannot keep the spring from coming," the Times of India reported.
However, others believe that the campaign shamed India's traditions, and just "came out of curiosity."
#KissOfLove A kiss is only a kind of demonstration of love. #SecularIndiapic.twitter.com/xJTQ3auCt3

— SUNDAR DUTTA (@SUNDARmyth) October 31, 2014
The movement became popular on Facebook after a local café was vandalized by a youth wing, who thought it was used for dates by young students. Other reports suggested a kissing couple on a private TV channel was aired at the restaurant.
The crowd of supporters of #Kissoflove who managed to kiss pic.twitter.com/k6iFa7tZ8V

— Dhanya Rajendran (@dhanyarajendran) November 2, 2014