Nazi 'Arbeit macht frei' sign stolen from Dachau concentration camp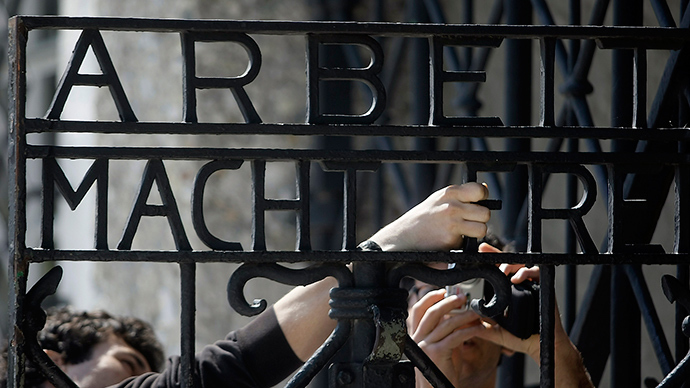 Part of the gate bearing the infamous slogan 'Arbeit macht frei' ('Work sets you free') went missing from Dachau concentration camp on Sunday, German police reported.
The disappearance of the gate, which measures 75 x 37 inches and was set into a larger iron frame, was noticed by the site's security officials early Sunday morning, according to a police statement. To reach it during the night, the offender had to climb over another gate, police said, adding that no trace of the missing sign had been found in the immediate vicinity of the camp.

The theft of the "central symbol for the prisoners' ordeal" was condemned by memorial director Gabriele Hammermann, who said that site officials had previously decided against video surveillance of the World War II work camp, in respect to all the people who suffered there.

Officials did not want to turn the memorial into a "maximum-security unit," according to Hammermann, but may now review the decision.

Dachau, located about 10 miles from Munich in southern Germany, was the first concentration camp opened by the Nazis in 1933, and was originally purposed for political prisoners. During the 12 years of its operation, more than 200,000 people from across Europe were held there. Over 40,000 prisoners died at the camp.

The theft is not the first Nazi memorabilia to be stolen from historic sites. In 2009, a similar "Arbeit macht frei" sign went missing from the gate at Auschwitz concentration camp in Poland. Police later discovered it cut into pieces on the other side of the country. A Swedish man and several Poles were imprisoned for the theft.

In 2011, an Israeli couple stole historic items from the Auschwitz museum grounds. In 2012, an Italian was arrested at Krakow airport for stealing a piece of barbed wire from the former concentration camp site.
You can share this story on social media: