​Gaza cut off: Israel closes border crossings indefinitely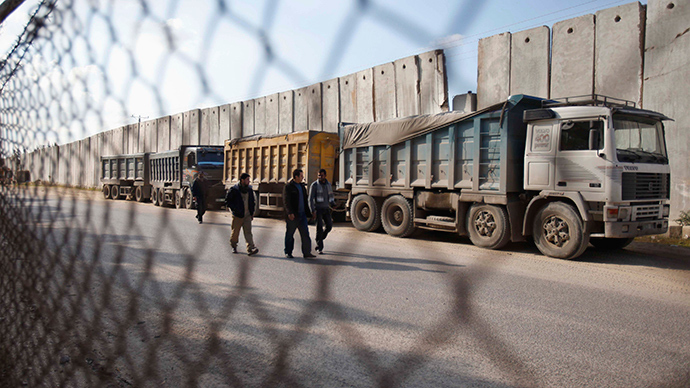 Israel has said it's shutting the only two operating Gaza border crossings indefinitely. This comes a day after a projectile hit Israel from the strip, but caused no damage. Border closures threaten to isolate already devastated Gaza completely.
READ MORE: Inquiry launched into Israeli attacks on UN Gaza schools
The move will affect both the Kerem Shalom and Erez border crossings, Haartez reported, quoting Israel's defense establishment. The authorities have notified the Palestinians of the decision.
Meanwhile, the three other crossings into Gaza are still not operational and the passage from the area into Egypt – the Rafah crossing – remains closed.
From now on and until further notice, only critical humanitarian aid going into Gaza will be allowed via the Erez crossing.
The news comes after the Iron Dome defense system detected a projectile fired from Gaza overnight on Friday. There was no damage reported and no one has claimed responsibility for the incident.
"Overnight a rocket or mortar launched from Gaza struck southern Israel. No damage or injuries reported," Israeli military spokesman Lieutenant-Colonel Peter Lerner said on Twitter.
It was not immediately clear if Israel's move on Sunday was connected to the incident.
READ MORE: International effort raises $5.4 billion for Gaza
Meanwhile, Egypt has stepped up its plans to create a buffer zone on the Gaza border, in Cairo's ongoing campaign against underground tunnels dug from the restive Sinai Peninsula, Ynet News reported. In Rafah, buildings are being demolished, while some of the local residents are leaving, fearing a new escalation of violence in the region.
Border closures threaten to cut off Gaza from much-needed humanitarian aid, which could make a dire situation in the area even worse. The Gaza Strip requires substantial rebuilding after Israel's 50-day Operation Protective Edge this summer left much of its infrastructure in ruins.
READ MORE: '18,000 homes destroyed in Gaza, tens of thousands lack facilities to go back home' – UN
You can share this story on social media: