'Water not for sale': Ireland stands up against water tax, tens of thousands march in protest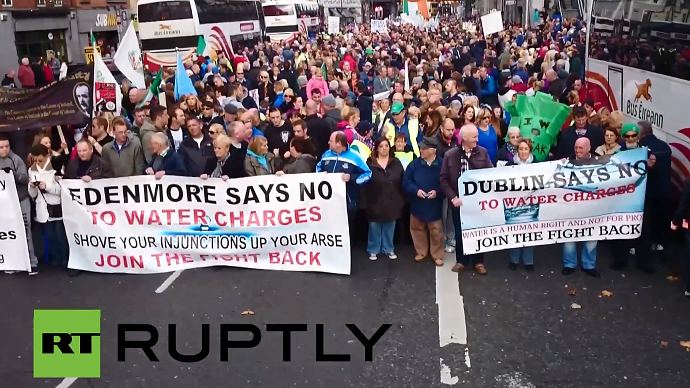 Ireland is facing a massive flow of protests against the new water tax, with tens of thousands of people joining in rallies across the country on Saturday. Outraged protesters say they've had enough of EU austerity measures since the economic crisis.
READ MORE: Dublin gridlocked as 50,000 Irish protesters oppose 'Ministry of Thirst' water charges
Dozens of towns participated in the protests, with around 120,000 people coming from all over the country, state broadcaster RTE reported.
In Dublin, a crowd of 20,000 protesters carried signs as they marched through the city center, calling for a reversal to water charges. Some of the signs read: "Our water supply is not for sale" and "Water is a human right and not for profit."
Govt urged to 'accept the will of the people' as thousands protest against water charges http://t.co/F5EO2qB8GSpic.twitter.com/VRle85EtwY

— RTÉ News (@rtenews) November 1, 2014
While many people chanted or displayed the common slogan "No Way – We Won't Pay!," some protesters constructed installations to remind the public that the new measures will hit every household in Ireland. One Kildare man installed a toilet on a trolley complete with signs reading "Don't tax the jacks!" while a woman in Dublin dressed herself as a washing machine.
Well done to the thousands who marched in the rain in #Leixlip to protest #watercharges@EndaKennyTD@labour#Nov1stpic.twitter.com/bnIEPdcXzK

— Barbara Geoghegan (@BabsGeoghegan) November 1, 2014
#irishwater#Right2Water crowd growing Dublin centre. pic.twitter.com/hbS1gRMq46

— rabble (@wearerabble) November 1, 2014
Demonstrators challenged the policies of Prime Minister Enda Kenny, and lashed out at Irish Water – the national authority. Some even carried a coffin with a skeleton and signs reading "Death to Irish Water."
At the water protest Dublin North Inner City #waterprotestpic.twitter.com/nV8xbxlFdp

— Mary Lou McDonald (@MaryLouMcDonald) November 1, 2014
The unprecedented hike in charges for the use of water would now cost the Irish consumer up to 400 euros (US$500) a year. The Irish government signed onto the water charges under the EU-IMF bailout, and while the country emerged from the loan and saw its economy grow by about five percent this year, austerity measures continue to bite the people.

Until now, Irish citizens have paid for their water services through general taxation. However, starting in 2015, households will be charged the new water tax.
"HEAR THE BANNER ROAR" OVER 2,000 PROTEST IN CLARE AGAINST WATER CHARGES http://t.co/1eq13pROTfpic.twitter.com/Tsni5uyOUc

— Aisling O' Rourke (@AislingORourke) November 1, 2014
The debate over the charges has been dominating public discussion.

The demonstrators stressed that their discontent is not just about the water tax, but has to do with the EU's austerity measures in general, which are criticized for hitting the lower class the most.
"This isn't just about the water, it's about the last five years," Reuters quoted a protester named Paul as saying.
Paul had to cancel his health insurance, along with his car- and life insurance, in order to make ends meet. "I was thinking about buying a new pair of shoes this year. It's come to that. Enough is enough," he said.
150k strong #Irish#waterprotesthttp://t.co/jnfdomML9h Beware the risen people @georgegallowaypic.twitter.com/nWRQ985pUx

— taigs (@taigstaigs) November 1, 2014
"The curious thing is that it took so long, that something as trivial as setting up a proper water company seems to have been the straw that broke the camel's back," said professor of politics at Trinity College Dublin, Michael Marsh. "Clearly there is a lot of public anger out there...and the government need to get a handle on it."

The government signaled that it will introduce exemptions to the water charges, but has not indicated whether it will be willing to cancel the charges.
Thousands on the streets of Letterkenny, Co Donegal #waterprotestpic.twitter.com/wtSv6Cnavi

— Barry Whyte (@BarryWhyte85) November 1, 2014
Over 4,000 march in protest against Irish Water in Ballyshannon - biggest March in recent history #irishwaterpic.twitter.com/h6clmYZEIo

— matt britton (@britpix) November 1, 2014
"People have legitimate concerns about some aspects of this, government are listening," Prime Minister Kenny said after the protests. "Over the next number of weeks, we will set out what people really want to hear and that's clarity and certainty about how much they pay."
Mrs Brown joins huge #irishwater protest in #Galway / #watercharges#waterprotest@Right2WaterIRLpic.twitter.com/glRGfqvcKc

— Ruairí McKiernan (@ruairimckiernan) November 1, 2014
Public opposition has also been affecting Ireland's political landscape, with Kenny's center-right Fine Gael party slipping four percentage points in opinion polls as public support shifts towards the party opposing the charges – the left-wing Sinn Fein.
*Update* The Irish Water Protest Map https://t.co/hoeOV800hW Just incredible #irishwater Let me know what I've missed pic.twitter.com/nTtM7Zq1Jd

— Liam Hogan (@Limerick1914) November 1, 2014