'Ditch euro, defend Italy's sovereignty!' Eurosceptic leader calls for referendum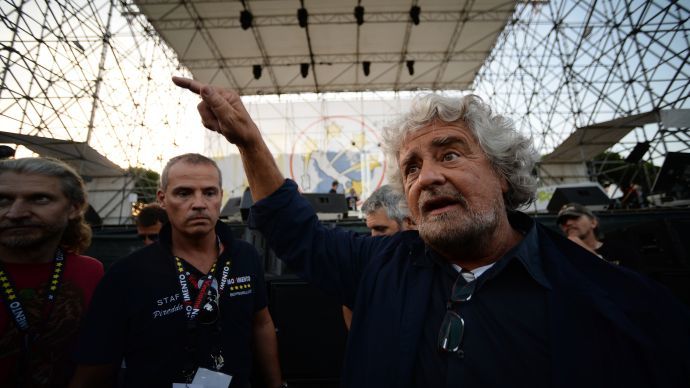 The leader of an influential Italian Eurosceptic political party, the Five Star Movement (M5S), says he will collect one million signatures required to petition the Parliament to conduct a referendum on Italy leaving the Eurozone as soon as possible.
The Italian government is not effective in restoring jobs and helping people, said Beppe Grillo, the leader of Italy's anti-establishment M5S, which burst onto the political scene last year winning 25 percent of the vote in its first parliamentary election in 2013.
"Leave the euro and defend the sovereignty of the Italian people from the European Central Bank," Grillo told his supporters at a M5S event in Rome.
"We have to leave the euro as soon as possible," he said. "We will collect one million signatures in six months and bring them to the Parliament to ask for a referendum to express our opinion."
Grillo hopes his party's recent success and growing support will allow them to gather enough signatures and push the idea through the Parliament by December 2015.
"This time, we have 150 parliamentarians and senators, and we have time to submit [the signatures] to the Parliament and adopt a law on the referendum," Grillo said referring to 109 seats out of 630 in the Chamber of Deputies and 54 seats out of 315 in the Senate that his party holds.
The constitution of Italy prohibits popular referendums on financial laws and ratifications of international treaties, but in any case the move will send a clear message to the government, Grillo believes.
The Five Star Movement was started by Grillo in 2010 and has made a splash at local elections, receiving the third highest number of votes overall and winning the mayoral election for Parma before the success in general election. In the 2014 European election, M5S came in second place nationally, taking 17 of Italy's seats in the European Parliament.
Beppe Grillo was a popular comedian on Italian television in 80s, but he disappeared from the screen in the 90s, with many suggesting that his harsh satire was too much to handle for Italian politicians. After that he mainly performed in theatres and staged a series of mass rallies, protesting against the criminal activities of the Italian political elite.
READ MORE:'Italy may abandon euro if debt not renegotiated' - politics kingmaker Grillo
At a time when unemployment in the Eurozone's third largest economy is running above 12 percent and all-time high of 44 percent for Italians under the age of 25, Grillo's belief in direct participation through forms of digital democracy might be the only way to get Italian frustration across.
Although the IMF predicts Italy's recession will break in 2015, when the growth is expected to reach 1.1 percent, the country is struggling to keep its budget deficit below the EU's cap of 3 percent of GDP.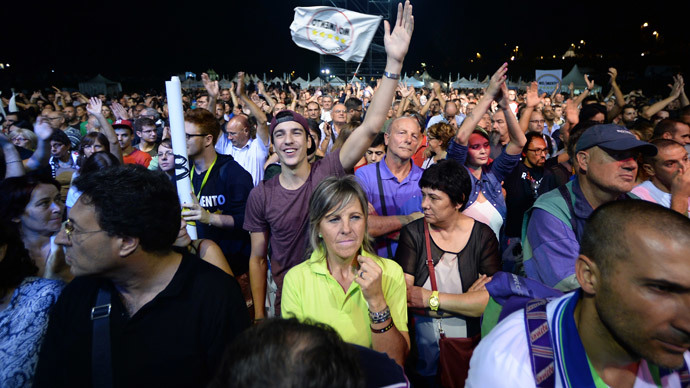 You can share this story on social media: