Everything you need to know on Burkina Faso crisis: Timeline, basic facts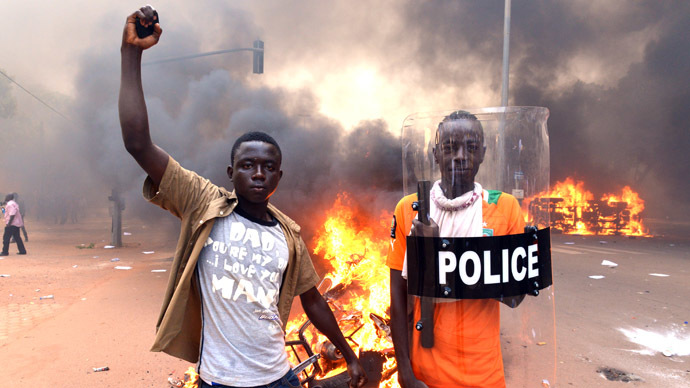 Burkina Faso's president of 27 years, Blaise Compaoré, has resigned after nearly five days of unrest on the streets of the capital. So what is going on? Is it the African Spring? RT collects basic facts on the crisis in the West African country.
Whither Burkina Faso?
Burkina Faso is a country in West Africa of some 17.3 million people that was a French colony from the 1890s until the 1960s. Its name roughly translates as the "land of honest people." The capital is Ouagadougou.
Blaise Compaoré ruled the country from the coup of 1987 – when Marxist revolutionary Thomas Sankara was ousted and killed – until Friday, October 31.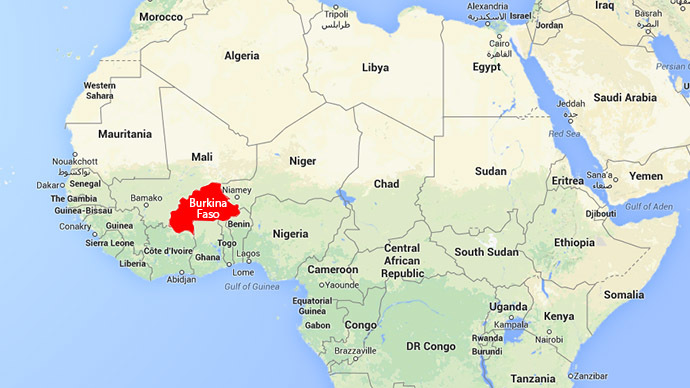 "I declare a vacancy of power with a view to allowing a transition that should end with free and transparent elections in a maximum period of 90 days," he said on Friday.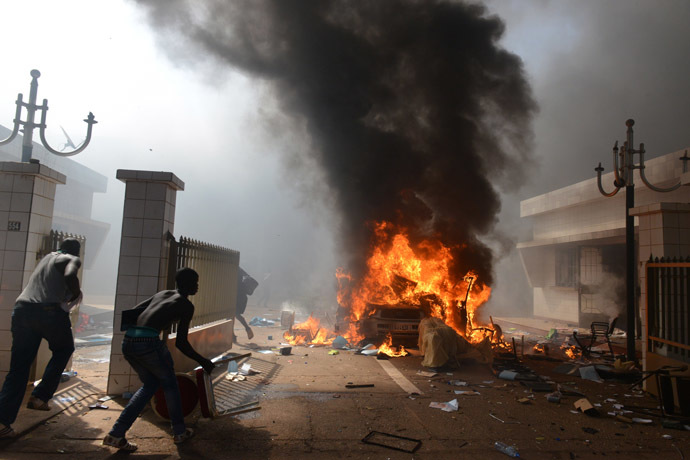 Why protests?
While some notable protests against Compaoré took place in 2011, the defining wave of violence – which was to put an end to his premiership – began on Monday, prior to a vote to change the constitution.
The intended change of Article 37 would have put an end to term limits, allowing Compaoré to extend his reign beyond 2015.
However, some regard the amendment as merely a catalyst in a country that has a generation of youngsters which has never known another ruler.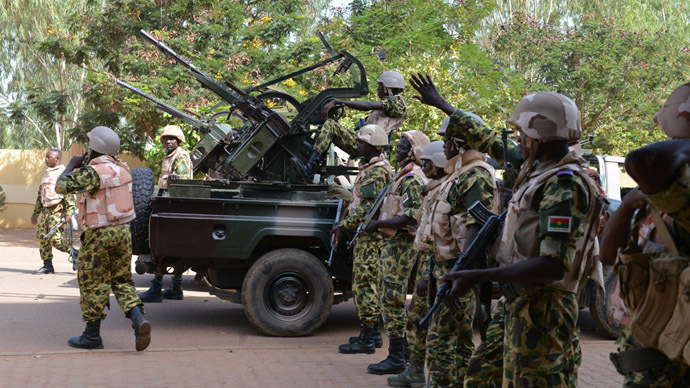 What happened?
Monday – October 27
Hundreds of women take to the streets of Ouagadougou waving broomsticks and spatulas.
"The spatula is the most important cooking utensil for women. It has a symbolic weight in our traditions," a demonstrator explained to local newspaper L'Observateur Paalga.
"When it is used to hit a man, it's a sacrilege; the consequences are disastrous and irreversible. Hitting a man with a spatula automatically undercuts his power, his virility, which he cherishes above all. This is the reason the women came out with spatulas."
"Because of the President's monarchic tendencies, his refusal to hear anyone but himself, the women came with spatulas to warn him, to bring him back to reason."
The opposition called for a day of protest to take place on Tuesday.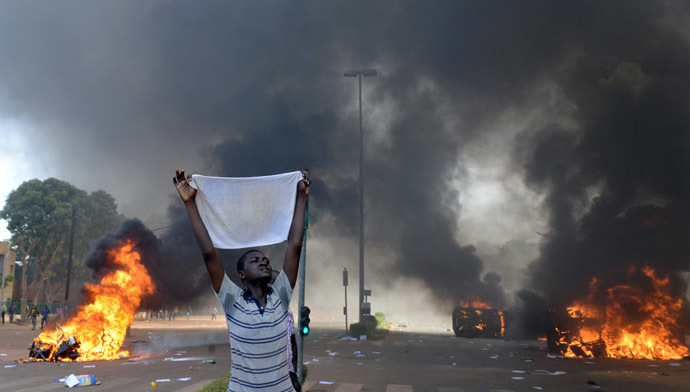 Tuesday – October 28
Demonstrators heeded the call and took to the capital's streets wielding iron bars and stones and waving banners bearing slogans such as "Blaise Get Out" and "Don't Touch Article 37" in reference to the constitutional amendment. Security forces confronted the hordes with tear gas. Senior opposition figures claimed a turnout of more than a million – however, this could not be verified by news agencies on the ground. Al Jazeera reported "tens of thousands."
Wednesday – October 29
Protests carried over into Wednesday. Burkina Faso President Blaise Compaore's government appealed to its "sense of responsibility and restraint in order to avoid any action that could undermine peace and stability."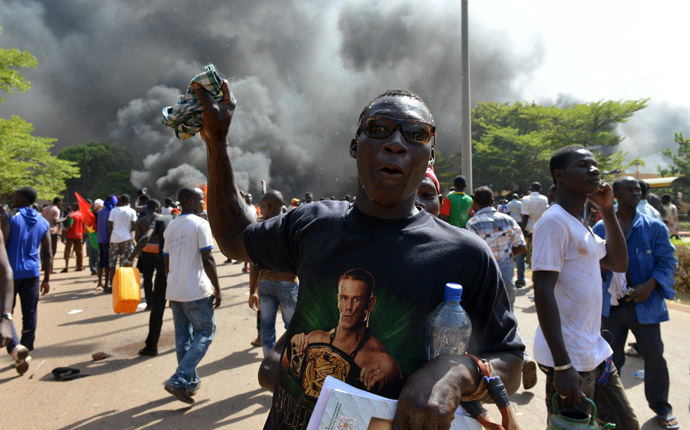 Thursday – October 30
Protests reached an unprecedented level of violence, with demonstrators setting fire to Parliament and other government buildings throughout the day. The state television channel was also stormed and overrun with protesters. Reuters reported hundreds of thousands on the streets of Ouagadougou. At least three people were shot dead and several others were wounded.

READ MORE: Burkina Faso army announces dissolution of govt, parliament
France called for a "return to calm" and asked "all parties to show restraint."
Compaore attempted to demand an end to the unrest and impose a state of emergency and a curfew. However, in the evening, the head of Burkina Faso's armed forces announced the dissolution of the National Assembly.
"A transitional body will be put in place in consultation with all parties. A return to the constitutional order is expected in no more than 12 months," General Honore Traore told a news conference.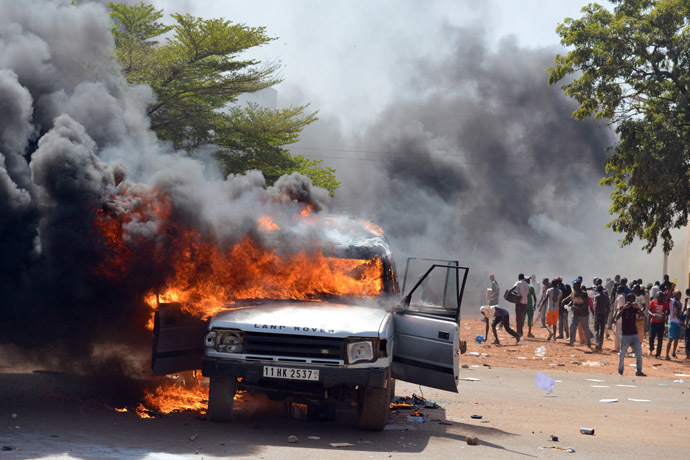 Friday – October 31
Hundreds marched in the capital. "We don't want him. We want him out of power. He is not our president," demonstrator Ouedrago Yakubo told Reuters.
Blaise Compaoré stepped down, making his resignation statement.
Later in the day, an armed convoy was observed traveling towards the Ghanaian border. Compaoré was thought to be inside.
Burkina Faso's armed forces chief, General Honore Traore, announced he had taken charge.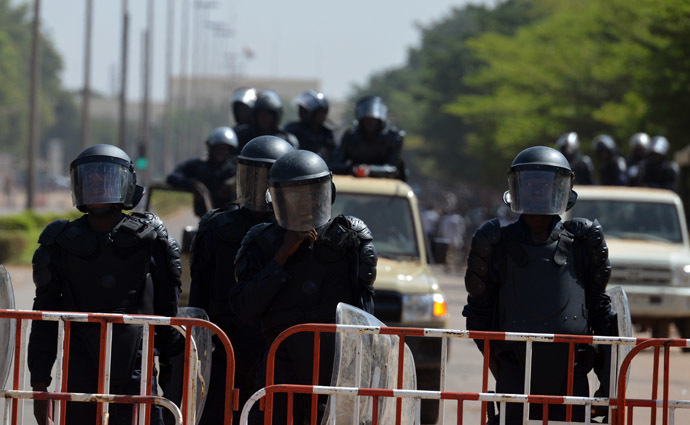 What's next?
It's difficult to say with any certainty what happens next. While the elections are tentatively scheduled to take place in 90 days, the former president has headed south and the army is now the head of state. Only this month, Tunisia managed to hold parliamentary elections after nearly three years of political upheaval.