Bypassing encryption: Italian firm 'sells global spyware to police, govts'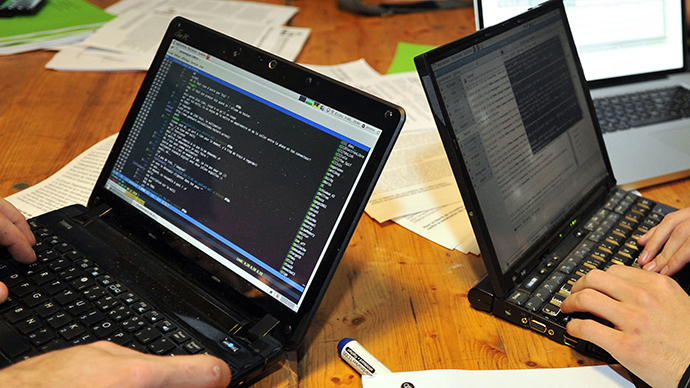 The latest encryption measures adopted by Google and Apple to beef up users' security seem futile in light of firms like Hacking Team, which are offering software that allows authorities to bypass encryptions on personal devices, The Intercept reported.
READ MORE: Australian police spend millions on spyware – WikiLeaks

The manual for one such program, titled 'Remote Control System,' has been published online.
"We're publishing in full, for the first time, manuals explaining the prominent commercial implant software 'Remote Control System,' manufactured by the Italian company Hacking Team," The Intercept wrote.
Hacking Team proudly advertises that its software can "defeat encryption."
"You cannot stop your targets from moving. How can you keep chasing them? What you need is a way to bypass encryption, collect relevant data out of any device, and keep monitoring your targets wherever they are, even outside your monitoring domain. Remote Control System does exactly that," reads the firm's brochure.
The software is reportedly capable of remotely turning on cameras, opening up emails, recording Skype calls, monitoring keystrokes, and collecting passwords.
The manual explains that targeting a digital device is quite easy – whether it is via a wifi network, USB stick, a video, or an email attachment.
Following step-by-step installation instructions, the software buyer can record and monitor activity without leaving a trace.
Hacking Team customers reportedly reside in Ethiopia, Kazakhstan, Saudi Arabia, Mexico, and Oman, among other countries.
The US is also a prominent user of the software; Hacking Team has attended American homeland security trade shows and conferences and put on training exercises for police, including one titled 'Cyber Intelligence Solutions to Data Encryption,' according to The Intercept.
Co-founder and CEO David Vincenzetti told l'Espresso in 2011: "We sell Remote Control System to institutions in more than 40 countries on five continents."
Hacking Team describes its products as "lawful intercept" technology, maintaining that all of its customers are government institutions. It says it would never sell software to countries which are on international "blacklists" or involved in "gross human rights abuses."
But Citizen Lab, a digital research unit at the University of Toronto, revealed that its customer selection policy has its shortcomings. After learning of 21 buyers, nine are among the "authoritarian" rating in The Economist's 2012 Democracy Index.
READ MORE: Government-operated spyware on the rise around the world – report
There is an increasing interest in tech firms that offer spyware, but their names remain under the radar. FinFisher is another such company that offers "IT intrusion and remote monitoring solution" which is "solely offered to law enforcement and intelligence agencies," according to its maker, Gamma International.
FinFisher has been criticized for dealing with countries such as Bahrain and Ethiopia.
In September, WikiLeaks revealed that governments spy on journalists with weaponized malware produced by FinFisher.
READ MORE: Governments spy on journalists with weaponized malware – WikiLeaks