Heavy fire in Kiev's oldest cinema during LGBT film, reports of smoke grenade (VIDEO)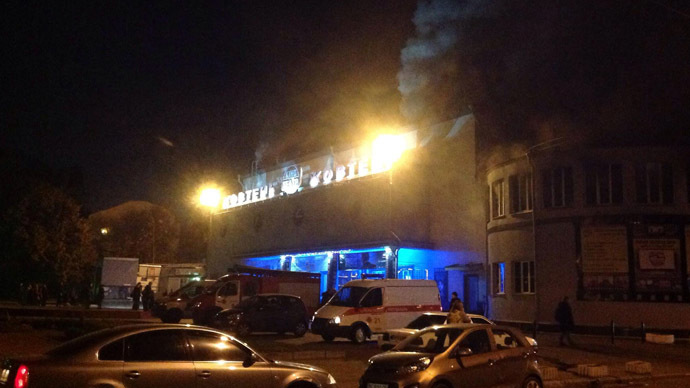 The oldest movie theater in the Ukrainian capital of Kiev was seriously damaged as fire swept through the historic building during the screening of an LGBT movie in a suspected arson attack.
There were no injuries reported among the 100 moviegoers, who attended the screening of the French film 'Les Nuits d'Ete' (Summer Nights) as part of the Molodist film festival program.

However, the landmark Zhovten movie theater, which was opened back in 1931, suffered severe damage in the incident.

It took the emergency services several hours to put the fire out, with the flames completely destroying the roof of the building. The firefighters said that they had discovered three fire sources inside the movie theater.
The fire allegedly started when an unidentified man tossed an "incendiary smoke grenade" behind the back rows during the screening, movie fan Evgeny Zelman wrote on his Facebook page.

"The film had been playing for 20 minutes already when people in back rows shouted: 'Smoke!'" Aleksey Chaschin, the festival's coordinator, said.

"We didn't understand at once what happened," Chaschin told the LB.ua website. "We managed to quickly lead people out from this screening and from other halls in Zhovten. The first fire truck arrived quickly. Others came when smoke started billowing out of the windows."

But Zelman provided a completely different account of events, saying that the Zhovten evacuation was "disorganized."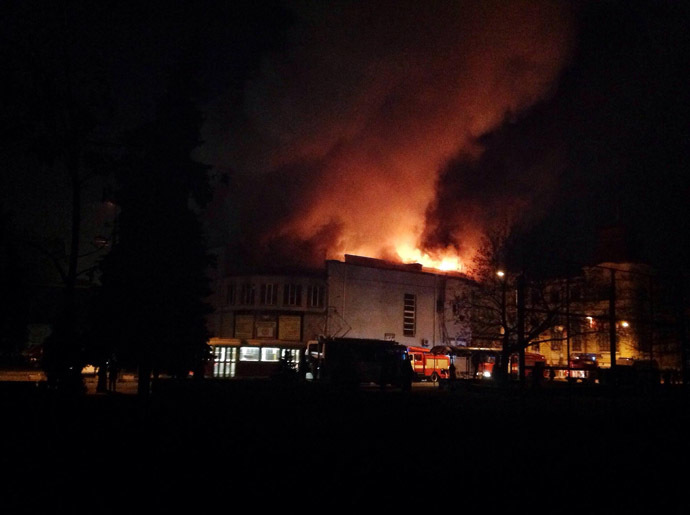 As soon as the smoke appeared, "people started running out, there was, of course, a crowd, I started pulling handles on the right – emergency exits – but everything was locked shut," he wrote.

According to the Zelmen, the cinema's personnel had no idea how to switch on the fire alarm or use a fire extinguisher.

Initial reports in the Ukrainian media cited the festival guests, who said that anti-gay activists, outraged by the contents of the movie, might be behind the arson.

'Les Nuits d'Ete' tells the story of a Frenchman in the 1950s, who lives a seemingly perfect life with his wife, but every weekend goes to a cabin in the forest to dress up as a woman.
There were also suggestions that the fire was connected to the legal battles around the movie theater, which is fighting hard to avoid eviction from its building in central Kiev.

"It is public property, and some want to evict its current renters, who have brought this place a cult following," Igor Lutsenko, a member of Kiev's municipal legislature, wrote on Facebook.

Kiev mayor and former boxing champ, Vitaly Klitschko, promised that Zhovten would be rebuilt after the fire.

"The arson of the premise, which became a subject of debate and legal battles in recent years, can't be ruled out. We won't allow Zhovten, which became a symbol of intellectual cinema among the moviegoers in the capital, to be taken away from us," Klitschko said, as cited in Podrobnosti.ua website.
You can share this story on social media: