​Chronic fatigue? The syndrome may lead to brain abnormalities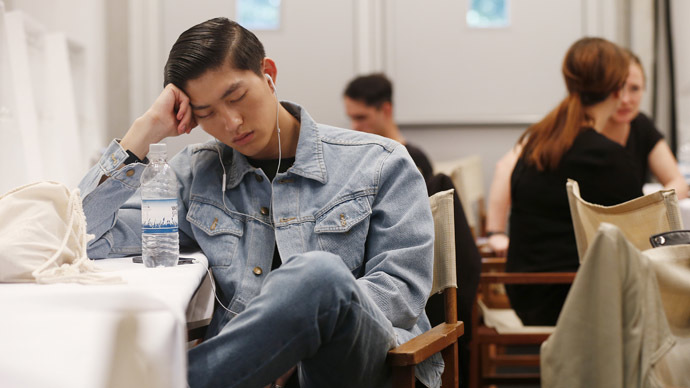 In an effort to relieve a condition that afflicts millions of people, researchers have pinpointed difference in the brain between chronic fatigue syndrome sufferers and healthy individuals: the patients' brains were found to have at least 3 abnormalities.
Researchers at Stanford University examined 15 patients with chronic fatigue syndrome (CFS) and discovered that the brains of CFS sufferers contain at least three distinct abnormalities when compared to those of healthy people, according to the study that appeared in the peer-reviewed journal Radiology.
READ MORE: Cup of cocoa a day keeps memory loss away – scientists
"Using a trio of sophisticated imaging methodologies, we found that CFS patients' brains diverge from those of healthy subjects in at least three distinct ways," said lead author Michael Zeineh, assistant professor of radiology at Stanford University School of Medicine.
The study showed that people who suffer from CFS have in their brains a bit less white matter, which is responsible for carrying nerve impulses between neurons, as well as problems in the nerve tract inside of the brain's right hemisphere.
For CFS patients, "the more abnormal the tract, the worse the fatigue," Zeineh said, as quoted by AFP.
Using magnetic resonance imaging (MRI) scans, the Stanford researchers discovered abnormalities among CFS patients in two regions that link the right arcuate fasciculus. Each connection point, called a cortex, was thicker in people with CFS, the study concluded.
Until now, chronic fatigue syndrome has perplexed scientists.
"CFS is one of the greatest scientific and medical challenges of our time," said the study's senior author, Jose Montoya, professor of infectious diseases at Stanford, as quoted by AFP.
READ MORE: Surgical robot to enter brain through patient's cheek
"Its symptoms often include not only overwhelming fatigue, but also joint and muscle pain, incapacitating headaches, food intolerance, sore throat, enlargement of the lymph nodes, gastrointestinal problems, abnormal blood-pressure and heart-rate events, and hypersensitivity to light, noise or other sensations."
The findings could assist doctors in diagnosing the syndrome and understanding exactly what causes the symptoms, said Dr. Zeineh.
"Most CFS patients at some point in time have been accused of being hypochondriacs and their symptoms dismissed by others," Zeineh said, as quoted by Today Health. "And there is still skepticism in the medical community about the diagnosis. That's one of the reasons these findings are important."