Rousseff reelected president of Brazil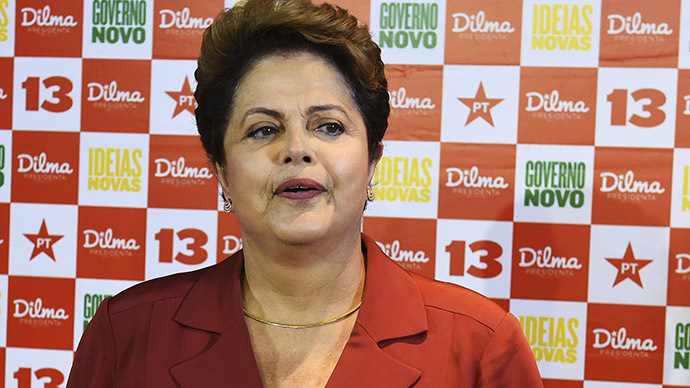 Brazil's leftist president Dilma Rousseff has been re-elected for another term with over 51 percent of the vote in a tight presidential run-off on Sunday.
Rousseff, who has been in power since 2011, has been re-elected for a second term, winning 51.6 percent of the vote according to the official tally. With over 99 percent of the ballots counted, her opponent, the centrist opposition leader Aecio Neves got 48.4 percent.
Muito obrigada! #Dilmais4anospic.twitter.com/LcPPKMOgHz

— Dilma Rousseff (@dilmabr) October 26, 2014
Rousseff secured her victory with wide support from the country's poor: some 40 million people have been lifted from the brink of poverty due to social reforms and the economic boom since 2003, when her Worker's Party came to power. "Thank you very much," Rousseff tweeted after the results were announced.
Festa da vitória de Dilma Rousseff http://t.co/oAegatRi1c#G1#Eleicoes2014pic.twitter.com/tSOwxIoYgt

— G1 (@g1) October 27, 2014
The victory speech of President Rousseff emphasizes reconciliation and consensus to move Brazil to reform, changes and dialogue. "Among all reforms, the most important should be the political reform," said Rousseff.
"This president is open to dialogue. This is the top priority of my second mandate," Rousseff said in her victory speech to a crowd that exploded in celebrations in the capital Brasilia. "I want to be a much better president than I have been to date," she told the rally, issuing "a call for peace and unity."
Aecio Neves, on the other hand, was supported by the upper-middle class and the rich, promising to recover the economic growth, that decreased during Rousseff's first term, and to deal with high inflation.The 54-year-old economist and a career politician also promised to encourage more investment in the country:
Neves conceded defeat to in a speech to supporters following the election. Neves said the "overriding priority is to unite Brazil around an honorable program worthy of all Brazilians," as cited by AFP.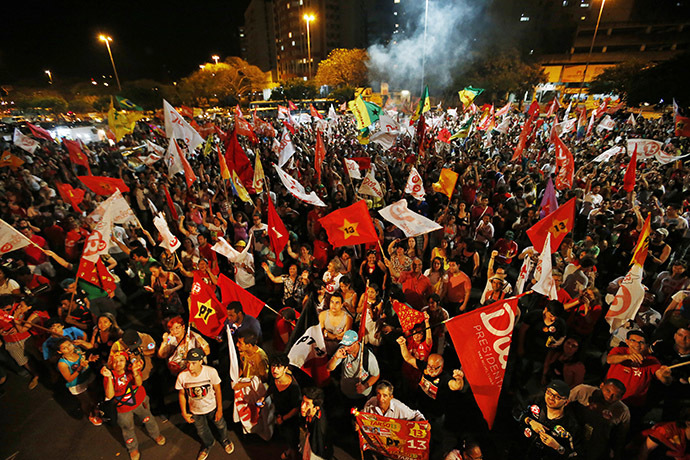 READ MORE:Rich-poor divide dominates Brazil's tight presidential election run-off
Meanwhile the Supreme Electoral Court announced that 66 people were arrested for violations in the presidential and gubernatorial elections, while 293 minor election-related incidents were also reported.
Violations include publishing exit poll data before polls closed, distributing political propaganda, and busing voters to polling stations.
El PT vuelve a superar sus corruptelas y gobernará con Rousseff hasta 2019 http://t.co/HxG3sOnPTapic.twitter.com/JbgUpSluC9

— Noticias Sin Censura (@NoticiasSOSVzla) October 26, 2014
You can share this story on social media: