IDF kill Palestinian-American teenager in West Bank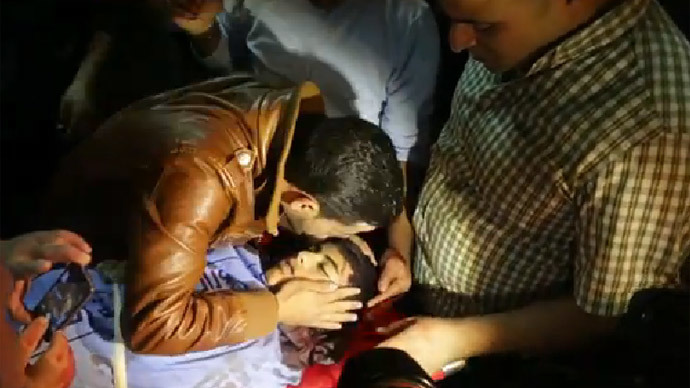 ​A Palestinian-American teenager has been shot dead by Israeli troops who claim they were trying to prevent a "Molotov cocktail" attack amid clashes near Ramallah. The US State Department has called for a "speedy and transparent investigation."
The 14-year old teenager was identified as Orwa Hammad. The US consulate confirmed that Hammad held a US passport, while local media reports that the teenager's father lives in the United States.
"We can confirm now that the teenager who was killed was an American citizen," consulate spokesman Leslie Ordeman told AFP, without commenting further. Times of Israel reports that the boy was born in New Orleans and came to the West Bank at age six. The US State Department meanwhile called for an investigation of the incident.
"We call for a speedy and transparent investigation, and will remain closely engaged with the local authorities, who have the lead on this investigation. We continue to urge all parties to help restore calm and avoid escalating tensions in the wake of the tragic recent incidents in Jerusalem and the West Bank," US State Department spokeswoman Jen Psaki said.
The incident happened in the village of Silwad, north of Ramallah, amid other clashes in Arab areas in and around Jerusalem in which several people were slightly injured.
The IDF confirmed the killing of the teenager in the village of Silwad, where troops were ordered to protect a major road. The army said they spotted a person about to hurl a petrol bomb.
What if this was Your Child? Media didnt cover his Murder? Politicians turned their back? #OrwaHammad#Palestinepic.twitter.com/Xfeoah2Hvm

— Bea (@Bea4Palestine) October 24, 2014
Israeli forces "managed to prevent an attack when they encountered a Palestinian man hurling a molotov cocktail at them on the main road next to Silwad," Reuters cited Israeli army spokesman as saying. "They opened fire and they confirmed a hit."
The military said it would investigate the shooting.
WARNING: GRAPHIC VIDEO
Medical sources told Alquds.com that Hammad was rushed to Palestine Medical Complex in the city of Ramallah, in a "very critical" condition. Doctors tried to save him but their attempts were unsuccessful due to the severity of the injury to the child's head. Maan News Arabic reports that Hammad was shot in the head and remained motionless on the ground before ambulances arrived at the scene.
Local media reports that clashes between a number of young men and the IDF near Silwad after Friday prayers resulted in five civilian injuries, including one from live bullets as a protester was shot in the foot.
Smoke grenades and rubber bullets were also used by the IDF to disperse Palestinian rallies in the towns of Ni'lin, Bil'in, Nabi Saleh, Kafr and Bethlehem, Al Jazeera reports as demonstrators against Israeli occupation of Palestine continue for a third day.
today' s clashes in Alessaweye neighborhood with the occupation. #Jerusalem#Palestinepic.twitter.com/NyDw2hdnpg pics.v@PalinfoAr

— Nour (@NourAlGhussein) October 24, 2014
In east Jerusalem authorities clashed with Palestinians, firing tear gas to disperse stone-throwing protesters. The Palestinian news agency said around 30 young Palestinians were injured by rubber bullets during clashes with Israeli police.
Hammad is the second teen to be killed by army fire in eight days. A 13-year-old was killed last week in a West Bank village.
READ MORE:'Shot in the heart': Israeli army kills 13yo Palestinian boy
Nightly clashes between Palestinians and Israeli forces have been happening since Wednesday, when a Palestinian drove his car into a crowd of Israeli pedestrians, killing a baby in what police said was a deliberate attack. The incident was followed by the death of a Palestinian girl in a run-over by an Israeli motorist, which investigators said was an accident and the driver was not arrested.
You can share this story on social media: