Massive gas pipeline inferno shakes German town (VIDEOS)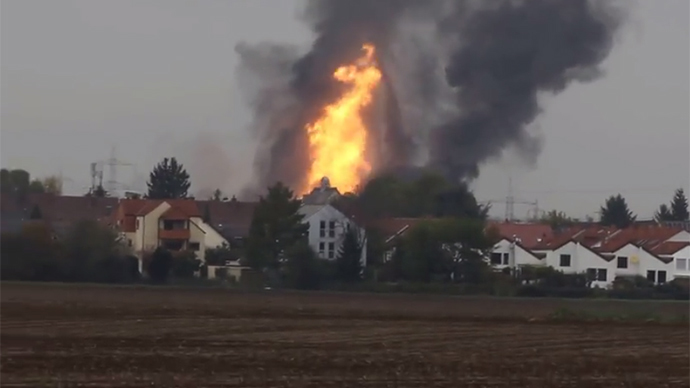 A gas pipeline blast in Germany has killed one person and injured 11 others. The conflagration resulted in 200-meter tall flames that were captured from all angles by local residents who were lucky enough to escape the inferno.
The blast at a building site in the city of Ludwigshafen, Rhineland-Palatinate, took place around midday Thursday. Local news outlets report that one construction worker has died and 11 others were injured in the incident. At least 25 buildings were also damaged in the blast. The fire left a crater 10 meters in diameter and 5 to 6 meters deep.
The police are yet to determine the actual cause of the explosion, but the accident reportedly occurred when workers attempted to dig down to a buried gas line near apartment blocks and a factory operated by BASF, the world's largest chemicals company, DW reports.
The company operating the construction site, Gascade, is also investigating the causes of the accident on the 57-kilometer gas line that leads to the city of Karlsruhe. Authorities said the main fire at the site was extinguished by late afternoon and smaller fires were under control.
The dead person's body could not be recovered because of the persistent heat even several hours after the explosion. The police cordoned off the area within a radius of 300 meters while firefighters battled the flames.
Eyewitnesses reported seeing flames shoot over 200 meters into the air. The flames could clearly be seen for miles in every direction as they towered over buildings. Many of the images and videos subsequently appeared in various online media.
You can share this story on social media: