​Night inferno as refinery explodes in Russia (VIDEOS, PHOTO)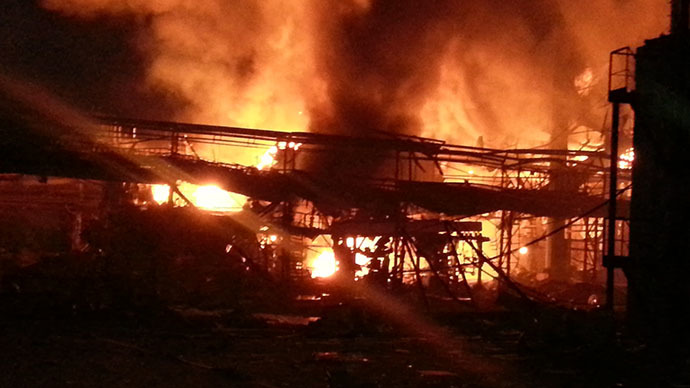 At least five people were killed and seven others injured after a gas blast caused massive blaze at an oil and gas refinery in Western Siberia Sunday night.
The disaster at Achinsk refinery in Krasnoyarsk region happened late on Sunday as the night shift was putting equipment back online after scheduled maintenance, the plant's owner reported.
A rupture in a fractionating column, which was used to produce liquefied natural gas, caused a massive explosion, which started a fire.
Five people died, either at the scene or shortly after being taken to hospital with serious burns, emergency services and medics reported. Seven others are fighting for their lives. Three people are as yet unaccounted for.
Firefighters have managed to stop the fire from spreading to other parts of the plant and doused out the flames on Monday morning after cutting a gas pipeline leading to the devastated column.
Rescuers are cleaning up the rubble right now, but hopes of finding anyone alive are slim at best.
Achinsk refinery is the only plant of this kind in Krasnoyarsk region. It belongs to a subsidiary of oil giant Rosneft.
The plant is located some 30km from the city of Achinsk, which has the population of some 110,000, the third-largest in the region.