Massive fire breaks out at hockey stadium in Ukraine's Donetsk (VIDEO)
A massive fire broke out during the night in the Druzhba sports center in the eastern Ukrainian city of Donetsk. It took 10 teams of firefights to extinguish the flames, which had spread over an area of 300 square meters.
Local authorities say there have been no reports of casualties or injuries and they are looking into what caused the blaze. The Druzhba sports center, which houses a hockey arena accommodating up to 4,000 spectators, caught fire at 1.49 GMT on Tuesday night in the capital of the Donetsk region.
PHOTO: Fire breaks out at #Donetsk sports palace, no casualties reported pic.twitter.com/mTQr4KpG71

— RT (@RT_com) May 27, 2014
The city's authorities deployed 10 fire engines to battle the flames during the night.
Donetsk has become a hotbed for protest over the last couple of months. Anti-Kiev activists have taken control of Donetsk city's official buildings and declared the creation of the Donetsk People's Republic in a protest against the authorities in Kiev, which they view as illegitimate.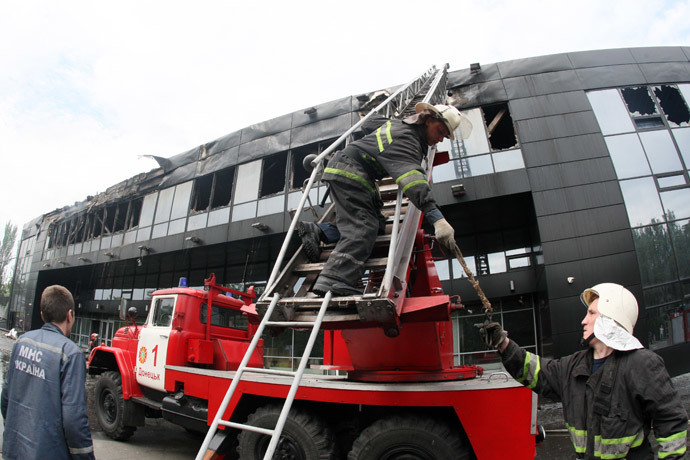 Hundreds of citizens in the province took to the streets on Sunday to protest the Ukrainian presidential elections. The so-called "anti-terrorist operation," launched by Kiev authorities against the dissents in the East has set many people against the Ukrainian state as it now stands.
The latest bout of violence saw the Ukrainian army fire a rocket-propelled grenade at a truck carrying wounded self-defense fighters near Donetsk's airport, killing at least 30 people. Over the weekend an Italian journalist and his Russian interpreter were also killed when they were caught in a mortar attack close to the village of Andreevka.
The Russian government has appealed to the authorities in Kiev to halt the "terror operation," condemning the violence against Ukrainian citizens.