Guilty! French widow convicted for keeping husband's ashes at home
Published time: 23 Oct, 2014 19:37
Edited time: 24 Oct, 2014 04:30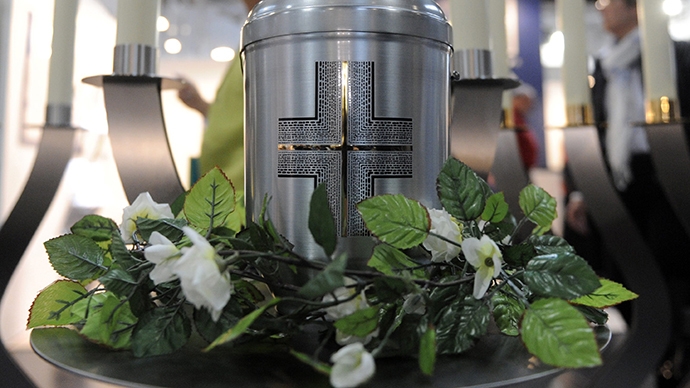 A French 72-year old widow has been convicted by a local court for keeping ashes of her deceased husband at home not knowing it is illegal in her country.
A widow from Bar-Le-Duc, a town in northeastern France, missed her husband, who died June 2011, so badly that she decided to bring his remains home from the cemetery.
"That's my husband, he was mine," the old lady told the judge in court.
She pleaded to the court that when on June 27 last year she unsealed the family grave and retrieved the ashes of her beloved husband, she did not know she was violating the law.
"I wouldn't have done it if I had known the law, but he is my husband, he belongs to me," said the woman, Martin daily quoted her as saying.
The judge still found her guilty of violating Article 16 of the so-called 'Sueur' law that came into force in December of 2008. It imposes strict rules on storage of human remains, stating that ashes can only be kept: "in a funeral urn that can be buried in a tomb, or placed in a columbarium, or in a tomb sealed inside a cemetery or funeral site."
Under the same law cremated remains can be "dispersed in part of a cemetery or funeral site designed for the purpose" or "dispersed in nature, except on public roads."
Despite the woman being found guilty, she was sent home without any punishment.