Harper's bizarre: PM in Ottawa shooting Twitter wined-up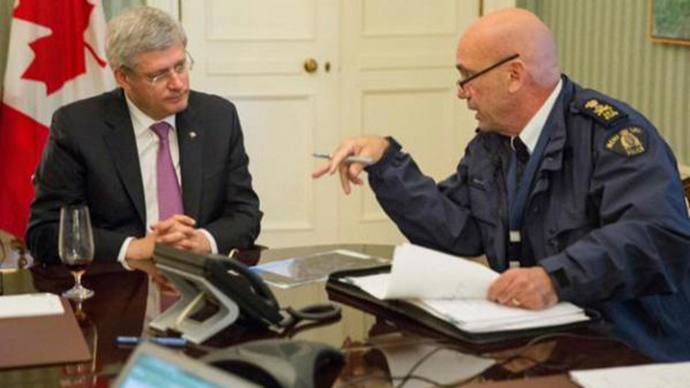 With the parliament in lock down and the capital of Ottawa seized by panic during Wednesday's shooting spree, Canadian PM Stephen Harper was seen at a televised briefing with a glass of red wine.
READ MORE: Ottawa shootings LIVE UPDATES
During an emergency televised briefing with Royal Canadian Mounted Police (RCMP) Commissioner Bob Paulson, Harper is seen with a nearly-empty glass of red wine at his side. Suddenly the shooting spree took a backseat on the blogosphere, as social media erupted in debate as to whether 'drinking on the job' – especially at the height of a national emergency – was the responsible thing for a leader to do.
Uh, maybe our PM can wait until order is restored before pouring himself a glass of wine? #OttawaShootingpic.twitter.com/bv3u4tI63C

— Pascal Leroux (@PascalLeroux) October 22, 2014
On Wednesday at 9:52am, gunman Michael Zehaf-Bibeau opened fire at the Ottawa War Memorial, fatally wounding Corporal Nathan Cirilloa, 24, before heading to the parliament building, where alleged assailant Zehaf-Bibeau was shot dead by Sergeant-at-Arms Kevin Vickers outside the MPs' caucus rooms, CBC News reported.
Damn right Prime Minister Stephen Harper @pmharper, I'd be having a glass wine right now too! #RCMP#OttawaShootingpic.twitter.com/rPrjTyH14i

— Patsy Christie (@PatsyChristie) October 22, 2014
@PascalLeroux It's judgment thinking the PM is not sober. Having a little wine doesn't make someone drunk.

— Jeffery White (@PureWhite0) October 22, 2014
At the same time, the RCMP issued a statement requesting the public not to post videos or photos relating to the shooting as it was occurring, which many say infringed upon the work of journalists and the rights of private citizens in the area.
The Prime Minister drinking wine during a major crisis VIA @PascalLeroux@CBCNews#cdnpoli#OttawaShooting#Harperpic.twitter.com/yjPlptpwbK

— Lowa Beebe (@LowaBeebe) October 23, 2014
In an address to the nation following the shooting, Harper extended his condolences to the family and friends of Corporal Nathan Cirillo, who was "murdered in cold blood, as he provided a ceremonial honor guard at Canada's National War Memorial," as well as to Warrant Officer Patrice Vincent, who was killed earlier this week by "an ISIL-inspired terrorist."
READ MORE: Ottawa gunman 'identified' as recent Muslim convert, high-risk traveler
Harper told his fellow Canadians that such incidents "are a grim reminder that Canada is not immune to the types of terrorist attacks we have seen elsewhere around the world."
@evansolomoncbc does PM #Harper need #wine to handle the situation or is that last night's left-over? Message unclear.

— Bob Aceti (@bobaceti) October 22, 2014
I feel a little bad about thinking Harper is a douche sitting at a table with a wine glass in the middle of a crisis.

— Melina (@AnnRudbeck) October 22, 2014
You can share this story on social media: