​'They said I have Ebola': Angry bus passengers attack Guinean woman in Rome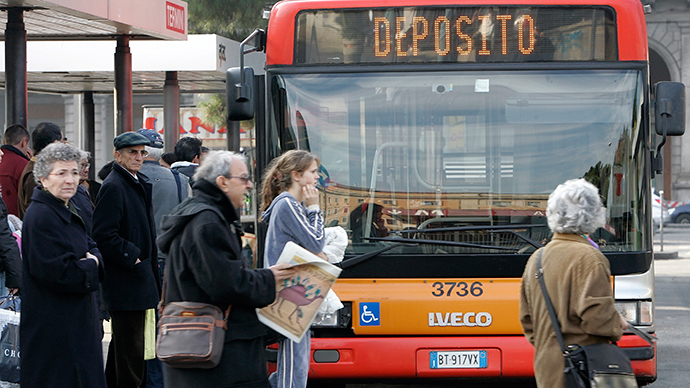 A Guinean woman has been attacked in a bus in Rome by angry passengers who told her she was infected by Ebola and had to get off the bus, Italian media reports. She was taken to hospital suffering from multiple bruises.
'I am a Liberian, not a virus' campaign fights Ebola stigma plaguing West Africans
Fataomata Sompare, 26, was about to get off the bus on Monday, said Il Messaggero, an Italian newspaper, as cited by the Local.
A teenage girl who was on the bus with her friends saw Sompare and began accusing her of having the deadly virus. Then some of the teen's relatives started beating the woman.
"They told me that I had Ebola and that I had to get off the bus," said Sompare, who has been living in Italy for four years.
People at a bus stop near Grotte Celoni Metro station in the east of the city managed to save the woman, who suffered multiple bruises after being beaten by passengers. The police arrived and she was taken to hospital.
Ebola hysteria soars to new heights in US schools
The incident was reported to public prosecutors by Sompare's lawyer.
"[She is] a victim of racism, which is now rampant in this city," the Sompare's partner Alessandro Corbelli told Il Messaggero. He added that the incident was "shameful" and she had been attacked "only because she's black."
The incident is not the only example of Ebola hysteria in recent days. In the US, Ebola-phobic parents sent a Maine teacher on mandatory leave after he returned from Dallas, where first victim of the virus in the country died. In Mississippi, parents pulled their kids out of school because of the principal's trip to Zambia.
The death toll from the Ebola virus has reached 4,877 people for far, the World Health Organization said on Wednesday.
According to the UN health body, 9,936 people in Guinea, Liberia and Sierra Leone, the three countries worst-affected by the virus, have contracted the disease.
You can share this story on social media: