​IDF soldiers handcuff, blindfold 11yo mentally ill Palestinian (VIDEO)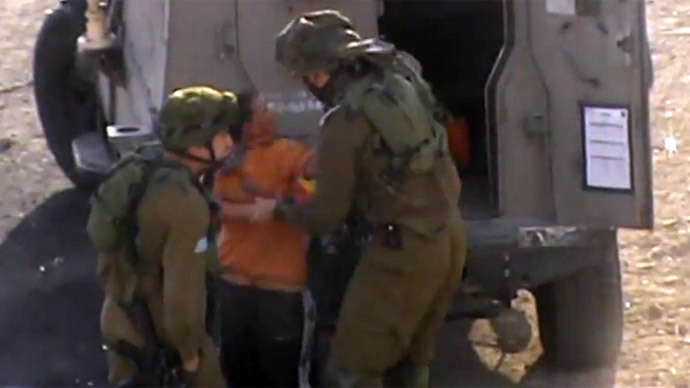 A video of Israeli Defense Forces degrading detention and mistreatment of a disabled 11-year-old boy has surfaced on Youtube, once again sparking harsh criticism of abuse and indiscriminately violent treatment of Palestinians by the Israeli military.
The video, recorded by a member of the Israeli human rights group B'Tselem on Sunday, shows Israeli soldiers abusing a mentally disabled 11-year-old Palestinian boy next to the Jewish settlement of Kiryat Arba, on the outskirts of Hebron.
The footage shows soldiers violently grabbing the boy following the patrol's chase after Palestinians who were reportedly throwing rocks at vehicles on a main road outside the illegal Jewish settlement of some 7,600 people.
"A developmentally disabled Palestinian boy, who is under the age of criminal responsibility, was briefly detained by the IDF "on suspicion that he had thrown stones," according to B'Tselem.
As the boy was being handcuffed, blindfolded, and huddled into a military vehicle, the video clearly shows Jewish settlers cheering for the Israeli soldiers. Degrading shouts reportedly continued for about 15 minutes, before the boy's father arrived and the boy was let go.
#Hebron IDF detains mentally disabled 11 yr old boy http://t.co/3NRMZrwR01 spokesperson: urgent call to capture 2 stone throwers (laugh?)

— Ron Fox (@ronfox) October 21, 2014
The young boy (dubbed A. a-Rajbi for anonymity reasons) will turn 12 in November and is "mentally disabled and cannot speak," the human rights organization claims.
READ MORE:'Shot in the heart': Israeli army kills 13yo Palestinian boy
According to the Times of Israel, the IDF said that on Sunday an IDF unit had been scrambled to catch two people who were throwing rocks near Hebron. One adult was jailed after being caught while the disabled child was released minutes later. The IDF added that it is looking into the incident.
how can you try and justify idf soldiers brutally handcuffing and blind folding a mentally ill Palestinian boy :'(

— yung lean (@alizevelmi) October 22, 2014
The Electronic Intifada (EI), a pro-Palestinian nonprofit online civil liberties campaigner, notes that while Palestinian youths do throw stones "as a form of community self-defense, protest and resistance, stone-throwing is also frequently a trumped-up charge used to extract confessions under torture and intimidate Palestinian children and youths into becoming informants."
In July, Kiryat Arba's notorious Chief right-leaning Israeli rabbi said it was acceptable to kill Palestinian civilians and destroy Gaza.
You can share this story on social media: