Sikorski U-turn: Polish ex-FM backtracks on scandalous 'divide Ukraine' claim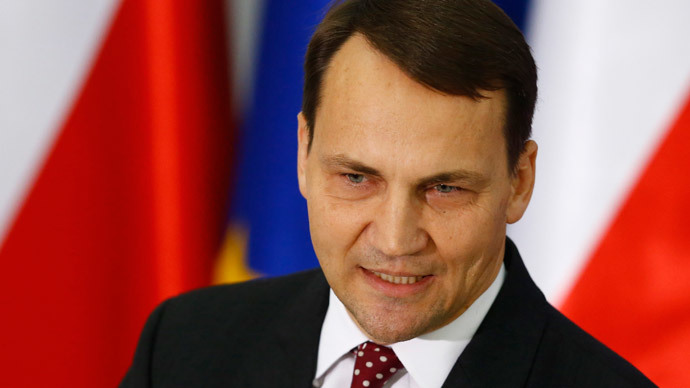 Radoslaw Sikorski — the speaker of the Polish Parliament and that nation's former foreign minister — was forced to apologize after claiming that he overheard Vladimir Putin in 2008 suggest that Ukraine should be divided between Russia and Poland.
A bombshell report published by Politico Magazine over the weekend called "Putin's Coup" alleged that Sikorski heard that the Russian president told Donald Tusk, then the Polish prime minister, that Poland should "become participants in the divide of Ukraine" during a Polish delegation's 2008 visit to Moscow.
"He wanted us to become participants in this partition of Ukraine... This was one of the first things that Putin said to my prime minister, Donald Tusk, when he visited Moscow," Politico's Ben Judah quoted Sikorski as saying following an interview that formed the basis of the Sunday article.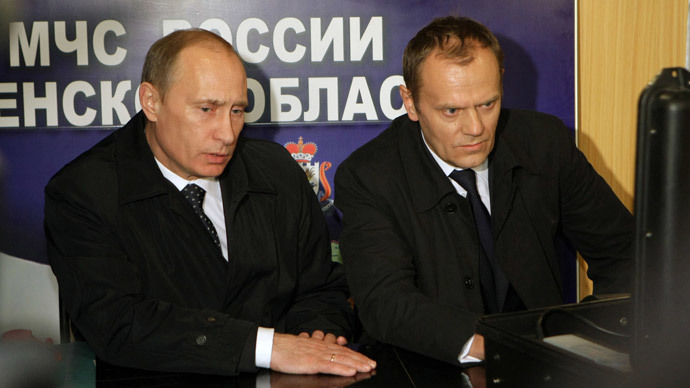 "He (Putin) went on to say Ukraine is an artificial country and that Lwow is a Polish city and why don't we just sort it out together."
"We made it very, very clear to them - we wanted nothing to do with this," Sikorski went on.
On Monday, Polish Prime Minister Ewa Kopacz said that, if Putin did suggest as much, then that would be "scandalous."
On Tuesday, however, Sikorski found himself in a scandalous situation and had to respond to multiple accusations that he made up the conversation between Putin and Tusk. The Russian president's spokesman labeled the alleged remark as "utter nonsense," and Putin's press secretary, Dmitry Peskov, told Russia's Gazeta.ru the report "looks like total tripe."
Responding to a mounting backlash, Sikorski said over Twitter that the interview with Judah was "not authorized" and that "Some of the words have been over-interpreted." However the Politico journalist was fast to remind Mr. Sikorski that in the US members of the press do not "authorize" interviews. Judah also said to the Polish broadcaster TVN24 that he was "not sure what Sikorski had in mind" when he said some of his comments had been "over-interpreted."
Rozmowa z Politico nie była autoryzowana i niektóre moje słowa zostały nadinterpretowane. Potwierdzam, że PL nie bierze udzialu w aneksjach.

— Radosław Sikorski (@sikorskiradek) October 20, 2014
On Tuesday, Sikorski was confronted at a press conference by Polish journalists, demanding clarifications regarding his remarks. However, the ex-foreign minister was vague about whether or not he made the remarks published by Politico. Before long Sikorski admitted that he never personally heard of Putin offering to divide Ukraine, then refused to go into more details or answer additional questions from the media.
This awkward press conference infuriated even Sikorski's fellow party members, and Polish Prime Minister Ewa Kopacz publicly lashed at him.
"I won't tolerate such behavior," says Polish PM Kopacz after Sikorski deflects questions re 2008 Tusk-Putin meeting at presser. cc @b_judah

— Piotr Zalewski (@p_zalewski) October 21, 2014
"I will not tolerate this kind of behavior. I will not tolerate this kind of standards that Speaker Sikorski tried to present at today's (news) conference," Kopacz said, according to the Associated Press.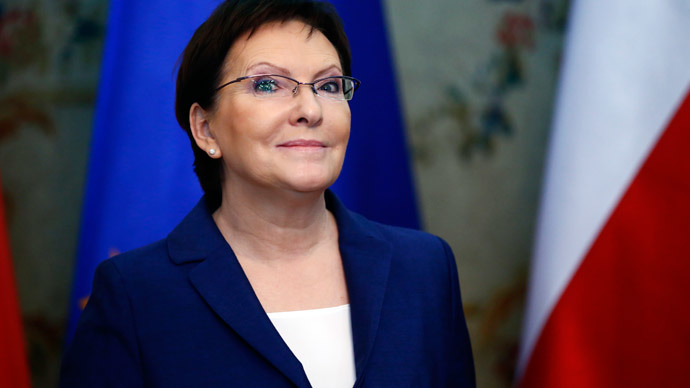 After that, Sikorski called in a second press conference, where he changed his position once again. He said Tusk and Putin never met during a bilateral meeting in Moscow in 2008 as he originally had suggested and the scandalous remarks were made later that year at a NATO summit in Bucharest. Additionally Sikorski apologized for putting both the former and current Polish PM in an "awkward position."
The four stages of Radek Sikorski, by @BDStanleypic.twitter.com/AeEr91wU93

— Jakub Krupa (@JakubKrupaFE) October 21, 2014
"I apologize for the awkwardness, which took place this morning," Poland's TVN 24 quoted Sikorski as saying. "Especially as a former journalist, I never avoided contact with the media."
However, Sikorski might be forced to change his version of history once again. According to the official NATO schedule of Putin's meetings from the 2008 NATO summit in Bucharest, the Russian leader and his Polish counterpart didn't hold any bilateral meetings in Romania either.
You can share this story on social media: