​'Total tripe': Kremlin spokesman slams article on 'Putin's plan to divide Ukraine with Poland'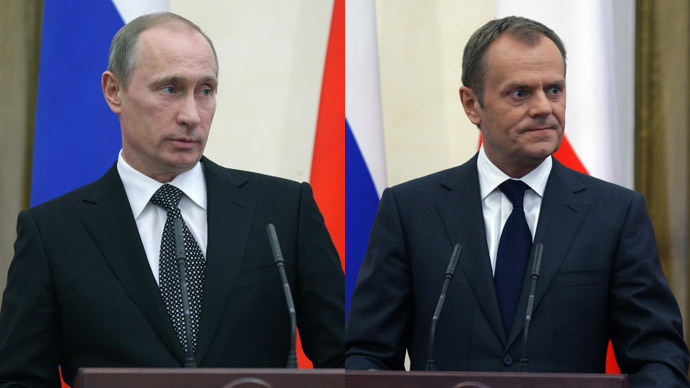 Vladimir Putin's spokesman labeled as "utter nonsense" an article published in a US magazine which cited Poland's ex-PM claiming that the president was planning to start a coup in Ukraine and to annex some of its land to Russia.
"First of all we barely know the works of this outlet [Politico magazine]. In general this information looks like total tripe," Putin's spokesman, Dmitry Peskov, told Russian Gazeta.ru.
The article dubbed 'Putin's Coup' in Politico, a US political Magazine, cites Radosław Sikorski, the current Marshal of the Sejm (the lower house of the Polish Parliament), and who was foreign minister in 2007-2014.
According to Sikorski, Putin's intentions to start a war in Ukraine date back to 2008 at a NATO summit in Bucharest, Romania, when he wanted to separate Ukraine and divide it between Moscow and Warsaw.
"This is where [Putin] gave his extraordinary speech saying Ukraine was an artificial country and the greater part of these lands historically belonged to Russia," he said.
Sikorski added that Putin's intention to annex Crimea began to alarm in 2011 and 2012, when he started visiting Russian bikers' festivals on the peninsula.
"We learned Russia ran calculations on what provinces would be profitable to grab," says Sikorski.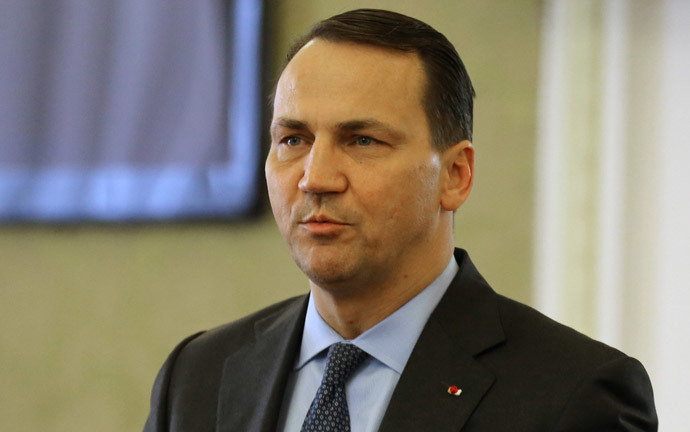 He claimed that Russia calculated to take Zaporozhye, Dnepropetrovsk and Odessa, all regions in southeastern Ukraine. According to Sikorski, the Donbass region was not deemed profitable to incorporate into Russia.
Donbass is not an administrative district, rather a broader area that includes Lugansk and Donetsk Regions, which are now major zones of conflict within Kiev's crackdown on eastern Ukraine. The death toll in the conflict exceeds 3,700 people, with over 9,000 others wounded, according to UN estimates.
"By that time they were already doing calculations about how to seize Crimea as a way of blackmailing Viktor Yanukovich [ex-Ukraine president, ousted in February2014]," Sikorski told Politico, "I know from my conversations and meeting with Yanukovich that he wanted to get the [European Union-Ukraine] Association Agreement."
He said that he believes that Putin was blackmailing Yanukovich not to sign the deal.
"And I think he told him: 'Don't sign the Association Agreement; otherwise we'll seize Crimea.' That's why he cracked," speculated Sikorski.
According to the former minister, Putin was trying to involve Poland in "grabbing" territories in Ukraine.
"He wanted us [Poland] to become participants in this partition of Ukraine," said Sikorski. "Putin wants Poland to commit troops to Ukraine. These were the signals they sent us."
Sikorski also claimed that Putin even came to Donald Tusk, ex-PM of Poland (2007-2014) and president-elect of the European Council.
"This was one of the first things that Putin said to …Tusk when he visited Moscow. He went on to say Ukraine is an artificial country and that Lvov [a city in western Ukraine] is a Polish city and why don't we just sort it out together. Luckily Tusk didn't answer. He knew he was being recorded."
Later Sikorski wrote on Twitter that his interview with Politico "was not authorized," and some of his words had been misinterpreted.
He also said he didn't take part in the talks between Putin and Tusk in the Bucharest summit in 2008 and that Polish authorities don't have any recording of Putin-Tusk conversation on Ukraine, reported Russian media, citing Poland's press.
This is not the first time European politicians accuse Putin of allegedly "taking over Ukraine." In September, Italy's La Repubblica newspaper reported that European Commission President Jose Manual Barroso disclosed the content of his telephone conversation with the Russian president.
According to the Italian daily, Barroso quoted Putin as saying: "If I wanted to, I could take Kiev in two weeks," after the issue of the presence of Russian troops in Ukraine was raised.
READ MORE: EU admits Putin's comment on 'storming Kiev' taken out of context
Moscow replied that the words had been taken out of context and that it could publish the real conversation between Putin and Barroso.
Later the EU has admitted that Vladimir Putin's words about "taking Kiev in two weeks" had been "made public out of context," said a spokeswoman for Barroso in a written response to the Wall Street Journal.
You can share this story on social media: