EU admits Putin's comment on 'storming Kiev' taken out of context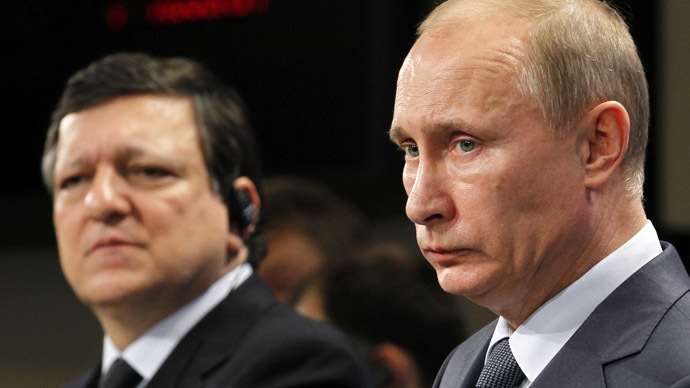 The EU has admitted that Vladimir Putin's words about "taking Kiev in two weeks" had been "made public out of context," said a spokeswoman for the European Commission President in a written response to The Wall Street Journal.
José Manuel Barroso's spokesperson Pia Ahrenkilde-Hansen said on Thursday the EU is going to address the issue "through diplomatic channels, not in the press."
"I can only add that the president of the Commission informed his colleagues in the European Council in a restricted session of the conversations he had with President Putin," Ahrenkilde-Hansen wrote to the WSJ.
"Unfortunately," Ahrenkilde-Hansen added, part of the conversation between Barroso and Putin, "was made public out of context."
Last week Barroso gave a briefing on his phone conversation with President Vladimir Putin, describing the conversation as "very frank." During the talk, the EU functionary alleged the Russian president had said that if necessary military occupation of the Ukrainian capital would take just a matter of weeks.
READ MORE:'Did he mean Alaska?' Obama wrongly blames Russia for 'trying to reclaim lands lost in 19th century'
Italia's La Repubblica was among the very first to overblow the scandal, saying that José Manuel Barroso had told European leaders who attended Saturday's EU summit in Brussels that replying to Barroso's accusations about regular Russian troop operating in Ukraine, President Putin had said that "If I wanted to, I could take Kiev in two weeks."
An EU official has confirmed to the WSJ that Putin's note about Russian forces being able to take Kiev within two weeks did take place during last week's telephone call, but the context of the comment was not clear.
The unexpected divulgement by the top EU official immediately sparked a political scandal involving Russia's high ranking officials and diplomats, who accused Barroso of both intentionally wrenching Russian leader's remarks out of context as well as breaching diplomatic protocol.
READ MORE:Moscow ready to expose 'Kiev in two weeks' spin with Barroso call transcript
According to Russia's permanent representative to the EU, Vladimir Chizhov, Putin's words were "clearly taken out of context."
On Tuesday, September 2, Moscow threatened to reveal the full recording of the controversial phone call "to remove all misunderstandings" if European Commission President Jose Manual Barroso doesn't object in the next two days, Chizhov said.
Russia's presidential aide Yury Ushakov lashed at the EU Commission president's behavior, stressing it is "incorrect and goes beyond the bounds of diplomatic practices."
"If that was really done, it is not worthy of a serious political figure," Ushakov added.
As the EU official acknowledged on Thursday, September 4, President Putin possibly made the comment to strengthen Russia's position of not and never being involved militarily in Ukrainian crisis.
You can share this story on social media: