​US military targets ISIS, 2 days & 25 airstrikes in Syria and Iraq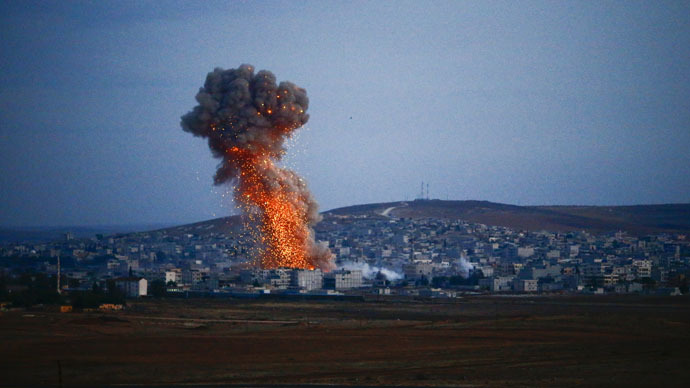 US fighter and bomber aircraft launched over two dozen airstrikes against Islamic State militants and the oil infrastructure they control in Syria and Iraq, American military says.
According to US Central Command, over half the strikes were carried out in Syria, 12 aimed at "degrading and destroying their oil producing, collecting, storage and transportation infrastructure."
On Saturday, the Syrian Observatory for Human Rights watchdog said at least 10 civilians, including a child, were killed in the US-led airstrikes conducted in eastern and northeastern Syria on Friday and Thursday night. Washington said it could not confirm the report.
US military said seven bombings "successfully struck an ISIL (IS) crude oil collection point consisting of crude oil collection equipment and a modular oil refinery," east of Diban in Syria's Deir al-Zor province.
Other air attacks in Syria targeted a militants military camp southwest of Ain Aissa and two fighting positions near Kobani (Ayn al-Arab in Arabic), a besieged Kurdish town near the Turkish border.
The Islamic State militants are now in control of oil rich territories in eastern Syria. According to experts, they were earning $3 million a day from oil – before the US-led coalition started air strikes two months ago, AFP reports.
Based on "initial reports," there were 10 airstrikes in northern Iraq.
Five airstrikes occurred south and west of the city and oil hub, Bayji, which "struck two ISIL units, destroyed one ISIL armed vehicle, an ISIL heavy weapon, an ISIL machine gun position, an ISIL building and three ISIL guard shacks."
West of the strategically important Mosul Dam, there were five strikes. They destroyed vehicles and damaged a building occupied by militants.
These 25 airstrikes were carried out as part of Inherent Resolve, the name of the US-led operation. Started on August 8 in Iraq, it's aimed at the "elimination" of the terrorist group. In September, the operation was extended to neighboring Syria.
You can share this story on social media: