Cold Ukrainian winter threatens German OSCE drone mission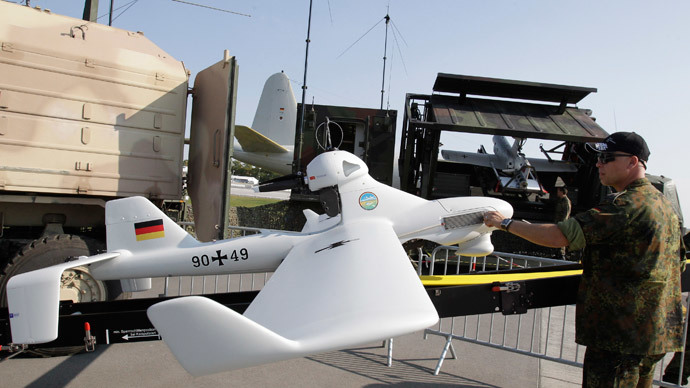 German Luna drones promised to soon fly over Ukraine to monitor the ceasefire under the OSCE mission may not handle the severe winters in the region and may crash, German media reported. If so, the entire mission may fail.
"It's a technical problem of the Luna [drone] system that it can't be controlled reliably at temperatures below minus 19 degrees [Celsius]," German MP Gernot Erler told local broadcaster Deutsche Rundfunk on Friday.

Winter temperatures in Ukraine are considerably below this mark at the flight altitude of 3,000 to 5,000 meters, German newspaper Bild reported, citing military sources.

A defense expert of the Christian Democratic Union, Henning Otte, told Bild that "If a drone freezes, it crashes," and urged Berlin to find a quick solution to the problem.

However, there are also other issues that may prevent Germany from joining the mission – including political and legal hurdles, said Erler. The fact that the German military would have to accompany the drones near the Russia-Ukraine border may cause disagreement between the two sides.

"This is difficult because Ukraine and Russia would of course have to agree, both are members of the OSCE," said Erler. "I've got major doubts that this mission will actually take place."

Meanwhile, Ukrainian President Petro Poroshenko said on Friday that an agreement was reached during talks on the sidelines of the two-day Asia-Europe Meeting (ASEM) summit in Milan, to increase the number of German and French drones used at the Ukraine-Russian border, within the framework of the OSCE mission.
READ MORE: Germany and France consider sending drones to Ukraine
The Luna drones in service with the Bundeswehr (German Army) were expected to be deployed to Ukraine after experts from Germany arrived to examine the conditions near the eastern city of Lugansk in September.

In early October, German President Joachim Gauck urged his country to play a much greater role in the international arena and take on more responsibilities. Instead, Germany has recently experienced a series of difficulties in fulfilling their promises.

In September, the Bundeswehr's Transall planes carrying medical aid for Ebola patients in West Africa stalled in the Canary Islands due to technical problems. A $70 million shipment of arms to Kurdish fighters struggling against ISIS in northern Iraq was also delayed.