Putin: Ukraine's new Donbass law 'not perfect, but a step in right direction'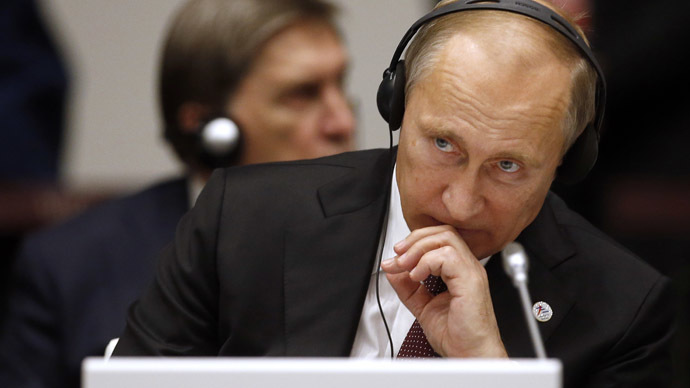 The new law giving special status to troubled regions in eastern Ukraine is 'not perfect,' but might be used to finally stabilize the situation in the area, Russian President Vladimir Putin said after a meeting with his Ukrainian counterpart in Milan.
"Perhaps it's not a perfect document, but it's a step in the right direction, and we hope it will be used in complete resolution of security problems," Putin said after closed-door talks with Ukrainian President Petro Poroshenko on Friday.
The two presidents met in Milan privately on the sidelines of the Asia-Europe Meeting (ASEM), a summit of Asian and European leaders.
The document on special status for the Donetsk and Lugansk regions was signed by Poroshenko on Thursday.
The legislation "defines temporary order of local government in certain districts," according to the Ukrainian president's official website.
The special order enacts governance "in the cities, towns and villages" to be "carried out by territorial communities through local government bodies under the Constitution and the Laws of Ukraine," with local elections scheduled in the districts for December 7.
It also aims to restore the regions' infrastructure and "create conditions" to stabilize the situation in the area.
The new law, which will be valid for three years from the date of its publication, is part of the agreement reached between Kiev authorities and eastern Ukrainian militias in Minsk on September 5.
The Minsk protocol, which also includes decisions on a ceasefire and the exchange of war prisoners, should be the guideline in Ukraine's conflict management, Putin said.
"I'd like to point out that these agreements, unfortunately, are not fully implemented by either side," added the Russian leader, speaking to journalists after the Milan talks.
Italy, France, Germany, and Russia have expressed willingness to use drones to monitor the situation in the region, Putin said. He added that the technical side of the plan will be discussed in the near future, when specialists gather at the OSCE (Organization for Security and Co-Operation in Europe) headquarters in Vienna.