20m fall: At least 16 dead at S. Korea concert as grate caves in (PHOTOS)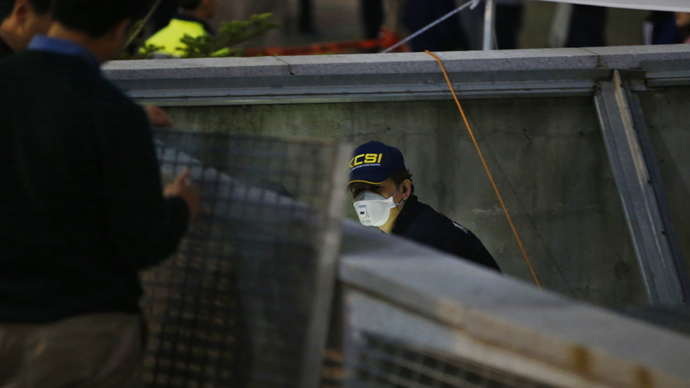 At least 16 people have been killed at a K-pop concert south of Seoul after falling 20 meters through a concrete shaft into an underground parking area when a ventilation grate collapsed.
Some 700 fans were attending the concert by K-pop girl group 4Minute and other bands. People had crowded onto the ventilation grate to get a better view of the performance and take photographs with their phones.
"Twelve people were killed at the scene, two others died while being rushed to the hospital. Others are assumed to have passed away while receiving medical treatment," a member of the local fire department told South Korea's Yonhap news agency.
사고 현장을 떠나지 못하는 사람들이 있습니다. 경찰은 돌아가라고 하지만, 움직이질 않네요. 그 옆을 지나가는 어린 아이들은 아무것도 모르는지, 포미닛 봤어? 예뻐? 하고 얘길 나눕니다. pic.twitter.com/w0XCnf5WqO

— borashow (@BoraShow) October 17, 2014
"There are people who did not leave the scene of the accident. Police came, but there was no movement…"
The injured were taken to four hospitals near the venue - Pangyo Techno Valley, an industrial complex in Seongnam, Gyeonggi Province – which surrounds Seoul. Television reports stated that 25 people fell through the grating, according to AFP.

Emergency workers have said that the death toll may rise. The majority are believed to have been students.
"There was a sudden, loud screaming, and when I turned it looked as if people were being sucked down into a hole," one witness told the YTN channel which reportedly showed amateur footage of stunned spectators crowding around the grate while the group continued to perform, apparently unaware of the tragedy in their midst .
— 韓流ツイッター (@kor_celebrities) October 17, 2014

South Korea is still suffering from the aftermath of two other disasters, which have thrown national safety standards into question and the latest incident may reignite debate.

In April, the Sewol ferry catastrophe left some 300 people dead – many also students – and in February, the roof of an auditorium in Gyeongju, in the south of the country, collapsed killing 10 people.

After Sewol the government promised to examine national safety standards.