Moscow refutes reports that Russia, US agreed to share intel on ISIS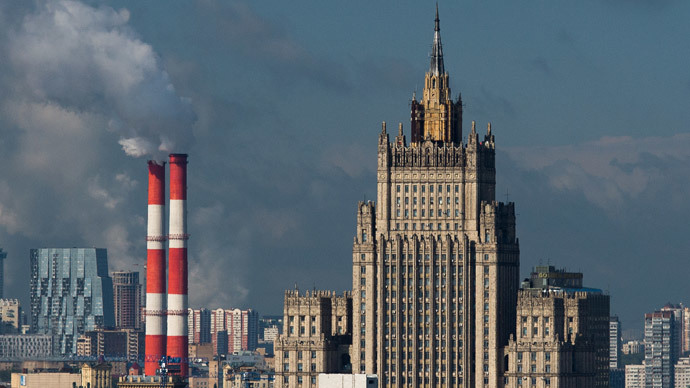 Russia has refuted media reports that Washington and Moscow have agreed to share intelligence on Islamic State terrorists. The news reports followed Wednesday talks between Russian Foreign Minister Sergey Lavrov and US Secretary of State John Kerry.
READ MORE: Fighting ISIS: $1.1bn already spent, '30 years of war' to come
Following the Paris talks, the counterparts held separate media conferences.

Reports suggested that the two officials agreed that their countries would share intelligence on Islamic State militants in Syria and Iraq, and Russia's participation in training and advising Iraqi security forces.

On Friday, Russia's foreign ministry issued a statement saying that "such issues were raised by US Secretary John Kerry."

Lavrov stressed that Russia has been consistently fighting terrorism and providing assistance to other countries in the face of the terrorist threat, and will continue its aid to Syria, Iraq, and other countries in the region to strengthen their combat capabilities in the fight against the extremists.

However, the ministry's statement added that Russia "will not be involved in any 'coalitions' set up in bypass of the UN Security Council and in violation of international law."

Kerry's attention was also drawn to the fact that within the framework of the Russia-US Bilateral Presidential Commission, there was a counter-terror group which was aimed at improving the communication and cooperation between the two governments regarding terror threats.

But the mutually beneficial exchange of information was suspended in 2014 by the US, the ministry reminded.

Nevertheless, Kerry stressed on Wednesday the importance of cooperation in a wide range of issues, including counter-terrorism, saying that "we have major responsibilities together."

"In our discussions today I suggested Foreign Minister Lavrov that we intensify intelligence cooperation in respect ISIL and other counter-terrorism issues of the region and we agreed to do so. We also agreed to explore whether Russia could do more to support Iraqi security forces and FM indeed acknowledged their preparedness to help with respect to arms, weapons…they are doing that now and they already have provided some, and with also potentially training and advising aspects," Kerry said.

In a separate statement that summed up their meeting, Lavrov said that "we can cooperate better together" especially in issues concerning "the fight against terrorism, which has now become the main threat to the whole Mideast." However, the Russian FM did not specify the details of such cooperation.

Tensions between Moscow and Washington have increased as a result of the Ukrainian crisis. The US and EU imposed a round of sanctions on Moscow, claiming that Crimea's accession to Russia in March was illegal.
READ MORE: Biden says US 'embarrassed' EU into sanctioning Russia over Ukraine
IS militants have gained momentum by capturing vast territories in Syria and Iraq. A US-led coalition launched airstrikes on the jihadists' positions in Syria in September without a UN Security Council resolution. This was in addition to the US airstrikes that had been carried out in Iraq since August.
You can share this story on social media: