Emergency in Madrid airport over patient with Ebola symptoms on flight from Paris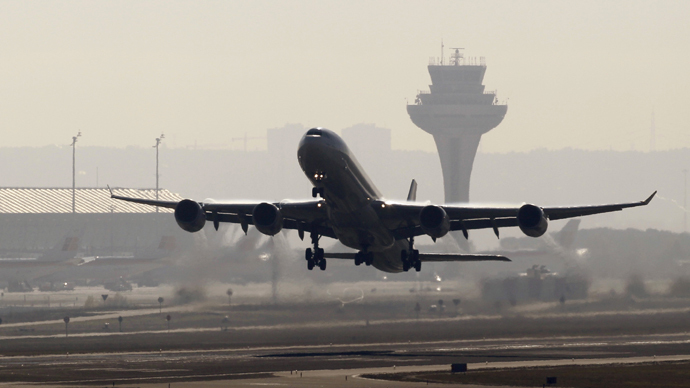 An Air France plane carrying 183 passengers has been quarantined in Madrid's Barajas Airport over a passenger showing Ebola-like symptoms. The airport activated the emergency protocol.
Worst Ebola epidemic in history LIVE UPDATES
According to El Mundo newspaper, the passenger felt sick, had a headache and was shivering. But he did not have a fever.
Flight AF1300 departed from Paris-Charles de Gaulle Airport on Thursday morning and landed in the Spanish capital at 11:30am local time.
The aircraft has been moved to a special zone of Barajas Airport in compliance with established protocol.
The man with suspected Ebola symptoms traveled to Paris from Nigerian capital of Lagos, the paper reports.
READ MORE:5 things about Ebola you should know
The crew of the plane informed the airport authorities, which activated the sanitary protocol. The other passengers of the fight had disembarked "normally," Air France sources told Europa Press.
The plane will now be disinfected, Reuters reports adding that the return flight has been canceled.
The man will be taken to Madrid's Carlos III Hospital, where he will remain in isolation while the checks are underway.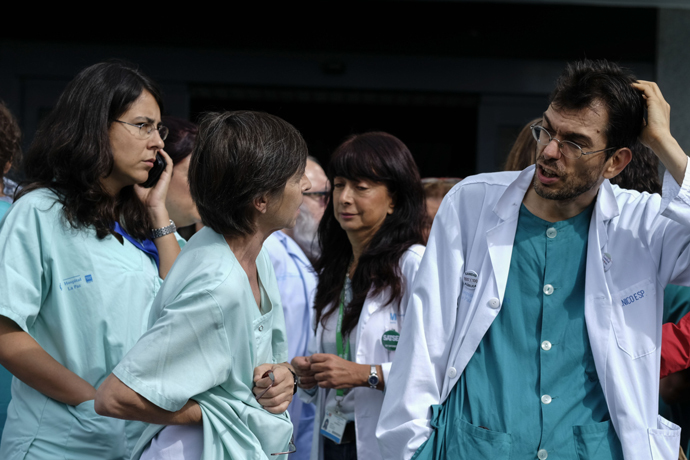 Meanwhile France will on Saturday start screening for Ebola among passengers arriving from Guinea's capital, Conakry to Paris' Charles de Gaulle airport, AP reports.
That's the only direct flight to Paris from West African countries affected by the virus.
It has been announced that medical teams will take passengers' temperatures before they enter the terminal.
"If there is no temperature there is no risk of contagion," Health Minister Marisol Touraine told LCI television on Thursday.
Spain has been in the spotlight of the Ebola response since a nurse in Madrid was diagnosed with the disease last week, becoming the first person to become infected outside Africa in the current outbreak.
Teresa Romero looked after two Ebola-infected priests repatriated from West Africa who later died. She remains seriously ill, but stable.
A person who had been in contact with Romero and was being monitored remotely for signs of the disease would be hospitalized after developing a fever, Spanish authorities said on Thursday.
The current Ebola epidemic has already become the worst outbreak of the disease in history claiming over 4,400 lives – most of them in the West African nations of Liberia, Sierra Leone and Guinea.
You can share this story on social media: